Featured Product #1:
CARRILLO Connecting Rods
We would like to welcome CARRILLO connecting rods to our lineup of hot rod Honda CB750 SOHC parts. These connecting rods are used by the top engine builders worldwide.
ENL-CCR $1,095.00
Featured Product #2:
Cycle X Posi-Lock Frame Splice Kit
These frame splice kits are installed to help remove Honda CB750 (69-78) top ends and motors.
If you look close or compare splice kits from the past 50 years, you will notice how our kits "interlock" and do not rely on only the bolts.
FR-041 $159.95 (Set of 4)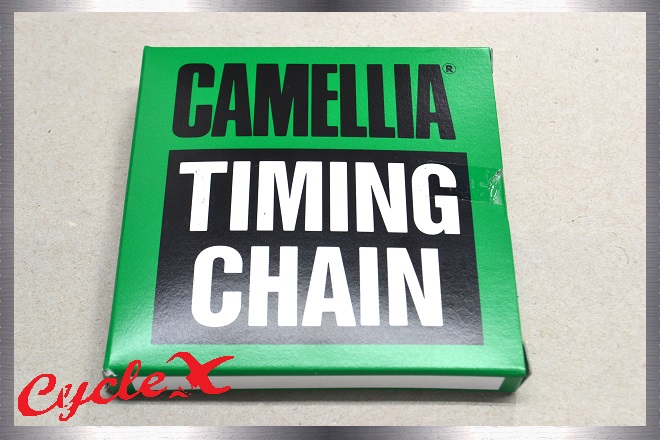 Featured Product #3:
Tsubaki Cam Chains
Tsubaki cam chains have been known to be the best for decades.
Tsubaki has discontinued making these chains and many engine builders were freaking out. Well, no need to panic. We have a limited supply of these chains and we will also offer them in a cryo treated version. These cryo treated Tsubaki chains will clearly be the best chains ever offered to the Honda CB750 community.
Straight side plates.
Now comes with a cryo treated version on our refurbished, engine chains, or camshaft page!
ENG-TSUBAKI $89.00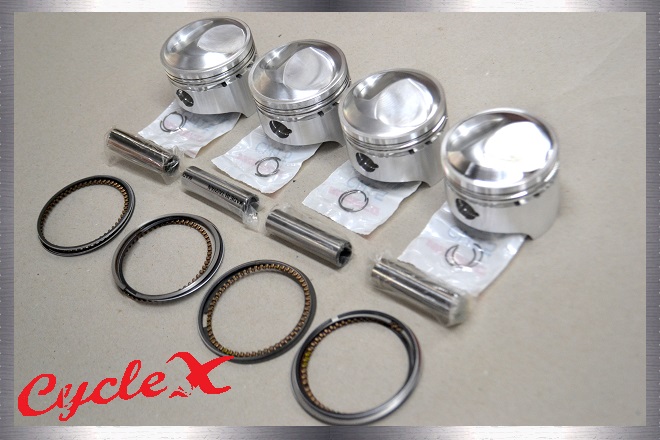 Featured Product #4:
Cycle X / Wiseco "Pop-Top" 836cc Piston Kits
These Wiseco pistons are forged and approx 11.5 to 1 compression ratio.
Note: Compression ratios vary on combustion chamber modifications, amount milled from cylinder and heads, gasket thicknesses.
Anyway, 165.5 grams (bare weight). 30 degree machined race proven dome angle. These piston sets include 3 piece oil rings. 2.559 XC Wiseco rings.
2nd ring is a total seal gapless ring.

Note: These piston sets combined with a CX-11 camshaft has produced big horsepower for street and track.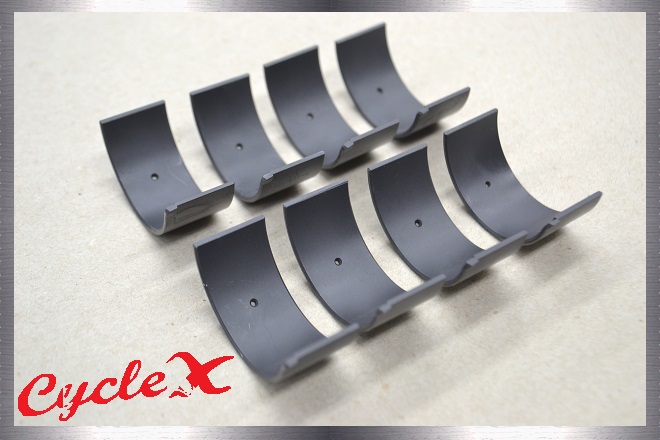 Featured Product #5:
Dry Film Lubricated Rod and Main Bearings
CT-1 is a Dry Film Lubricant coating that helps reduce friction and abrasive wear. It provides intermittent dry lubrication and is not affected by dust or dirt. CT-1 is specifically engineered to withstand the extreme conditions of today's high performance engines. Professional engine builders enjoy a higher level of confidence with increased embedability, strength and durability.
CT-1 Dry Film Lubricant coating is applied as a spray process. Different surface preparation methods appropriate for the substrates will be used prior to the coating process. Coating thickness is varied to suit the application. Typical coating thickness for engine bearings is 0.00025" to 0.00030" inch (6 to 7.5 microns).
Temp. Rating:
Process Temp: 350° (176°C), Max Temp: 500° (260°C), Int. Temp: 600° (315°C)
Thickness:
Thickness (mill): 0.2 - 0.4


Stories are more fun!
A top level pro-mod drag racer was having connecting rod bearings failures every run down the drag strip years ago, the con-rod bearings were flattened out and were clearly junk. The distraught drag racer happened to reach out to our coating people for answers. Our people provided the pro-mod racer with a set of "dry film" connecting rod bearings and the machine ran more than 12 runs that weekend with virtually no signs of wear. True story!
Note:
These bearings are in stock in only green and yellow.
Other colors are special order.
ENL-017
Breaking news!
We've got some brand new alloy shouldered rims in 18 or 19 in. with spokes on our wheel page. Check them out!