Credit: David Carlo Photography
Featured Product #1:
CYCLE X BILLET HIGH PERFORMANCE TRANSMISSIONS

The highest level Honda CB750 SOHC products is our goal.

Our newest addition to the highest level Honda CB750 products available are the race proven complete transmissions.



Transmission and Cycle X Chain Wheel and Hub Combo

These transmissions feature large unbreakable dogs, super polished and race proven.
These transmissions are for high horsepower applications or for people that simply want the best products for their special Honda CB750's.
The transmission also comes with the 4 bearings (mainshaft and counter shaft) (Japanese bearings)

1st

17 – 38

2.235:1

} 30.9%

} 19.8%

} 14.2%

} 11.8%

2nd

22 – 34

1.545:1

3rd

25 – 31

1.240:1

4th

31 – 33

1.065:1

5th

33 – 31

0.939:1

Overall reduction 1st – 5th

58.0%

The Cycle X Refurbished Chain Wheel and Outer Clutch Hub Details:

We disassembled the cush drive and glass bead for inspection. The inner portion of the hub is drilled and tapped for screws to replace the long rivets installed by Honda to hold the drive together.

Before installing the new cush drive rubbers, we measure the amount of deflection or wobble the two sprockets have. Most hubs have different measurements. But, they generally deflect or wobble over 2mm measured by the outer tooth area, relying on the cush rubbers to keep things somewhat stable. With that said, we surface the outer plates and machine the inner portion to reduce this deflection and wobble.

Before we install the specific length and material cush drive rubbers, we remove and install (2) new needle bearings on the inside.


We like to use later model clutch arrangements and will also fit in earlier motors.
This chain wheel and clutch combo has been refurbished as described above with inner clutch hub oiling modifications.
The chain wheel and clutch assembly combo is then balanced to absolute perfection. (1/2 gram, 1 in. from the center line)

ENL-032 $2999.00

Call to order. Only One (1) available.
Featured Product #2:




EEFull Race Billet Transmission with 6 spring multi-plate clutch system.


8 friction plates.
6 clutch springs.
Refurbished chain wheel.
Modified clutch plate oiling.
Balanced to perfection chain wheel and clutch assembly

Transmission is similar to the featured #1 product above.

Price and availability coming very soon.
Featured Product #3: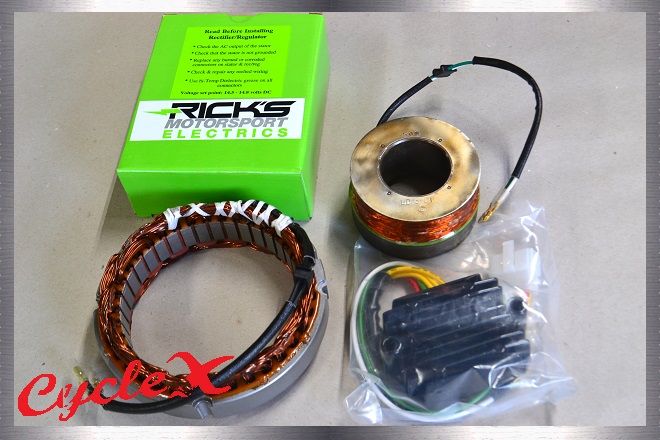 Honda CB750 (69-78) Rick's Electrics Complete Refurbished Charging Systems
NEW Cycle X "High output 20 amp system"
These Rick's Electrics refurbished, rewound stators and field coils should solve your charging problems for good. Fresh wires and exit rubbers with make your assembling procedure a breeze.
Also included is a Rick's solid state voltage regulator.
Also comes with a gasket (not pictured).

Note:
Stock Honda cb750 charging systems are approx. 13.5 amps and are prone to be even lower with old wires and poor connections.
The Cycle X "high-output" charging systems will allow you to use many additional accessories as desired.

Price and availability coming very soon.

Featured Product #4: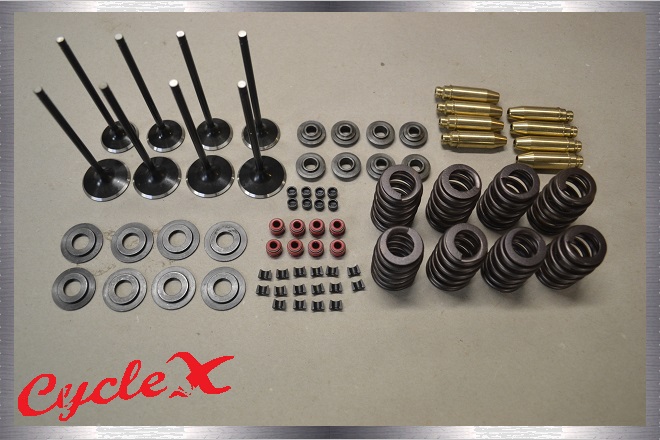 "Photograph not accurate"
The "NEW" CycleX - Kibblewhite Honda cb750 performance 5mm kit


This is the same 5mm conversion kit that has been used by top race teams but has been upgraded with "bee hive" valve springs for even more valve train weight reduction.
This new 5mm kit will feature the Kibblewhite race and street proven cast iron valve guides with changes to the original designs.
The upper portion of the valve guide has been lengthened for added support and spring shimming capabilities.
The lower portion of the valve guide is nicely tapered for flow improvements.
The bee-hive springs are best in the industry (we've tried them all)
The installed height spring pressures have been adjusted to 70-ish pounds with the capability of another 28 or more pounds if needed.
Note:
Add Titanium adjuster jam nuts and lightened rocker arms for even more light weight valve train improvement.


Kit includes:
Lightweight intake valves (34mm oversize)
Lightweight exhaust valves (STD size)


Proven cast iron intake guides and seals
Proven cast iron exhaust guides and seals
Keepers and lash caps
Bee hive retainers
Bee hive silicon springs
H.T. steel base washers and extra shims
Instructions

Price and availability coming very soon.
CARRILLO Connecting Rods
We would like to welcome CARRILLO connecting rods to our lineup of hot rod Honda CB750 SOHC parts. These connecting rods are used by the top engine builders worldwide.
ENL-CCR $1,095.00

Featured Product #6: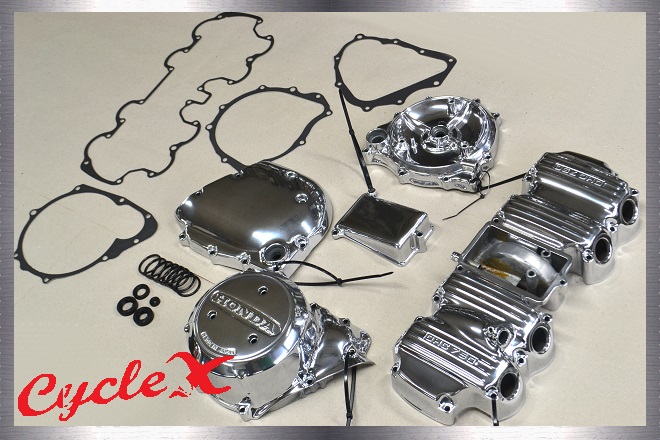 Polished Honda CB750 SOHC Covers (Amazing Quality)
Sorry aluminum polishers. Our polished covers are better than yours.
These covers are absolutely polished to perfection.
We have also included a set of our world class no-leak cover gaskets, oil seals and o-rings to complete this kit.
Attention restoration folks! You might not want these covers, because they are better than original Honda covers.
Note: Does not include the valve inspection caps.
$499.00 (Outright sale)

Featured Product #7: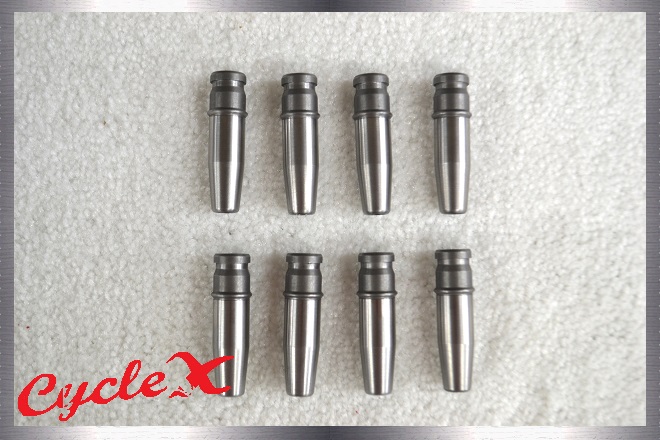 New ... High lift, High flow valve guides.
The best ... just became better.

The Cycle X / Kibblewhite cast iron valve guides are race proven and made from the best materials known to man.
These valve guides are able to be installed with highest lift camshafts available.
These guides are also designed so the valve seal will not drop into the keeper groove at full lift causing excessive oil to enter the intake ports.
Our new valve guides are tapered on the lower portion (port side) to noticeably increase flow numbers.
Great stuff.
Also available in "Cryo" treated.

ENV-033 $ 149.00

A 3.99% customer service charge is applied to all phone orders.
If ordering via phone, please also provide the part # of any products you are interested in for faster and more accurate service.
If you encounter a (rare) broken button as you're trying to add parts to your cart (going to PayPal summary instead of your cart or not opening PayPal at all) or anything else of concern, please call us to report it. We'll try to have it fixed for your convenience within the next 5-10 minutes. Afterwards, refresh the page and try again.
NOTE: As of July 1st, 2018, an extended goods and services tax (GST) has been applied to all Australian consumers buying overseas, charging an extra 10% in taxes to us with each purchase. To ensure that you can continue to purchase from us in Australia and we can provide our parts at our usual lower cost, please
contact us at the email below
if interested in any particular parts so that we can make a special shipping arrangement for you.
It is the sole and exclusive responsibility of the purchaser to determine the suitability of any part, product or work for his or her use.
The purchaser shall assume all legal, personal injury risk and liability and all other obligations, duties and risks therewith.
There is no warranty on High Performance motors.
Cycle X Global Headquarters
6246 US Hwy 51 South
Hazelhurst, WI 54531
Phone: 715-356-7346
Email: hotrodcyclex@gmail.com

<>