Credit: David Carlo Photography
Featured Product #1:

"Billet" Cycle X 890cc 12.1 Piston and Sleeve Kit, 69-78 "K" Models
Back in stock.

We are proud and excited to release these Billet Wiseco pistons with our race proven Cycle X domes.

Why Billet?
Without blanks or forgings to achieve the race proven dome configurations, the pistons needed to be billet and built from scratch.
Secondly, Billet pistons can be machined on the undersides to reduce even more weight and run shorter wrist pins.
Conclusion, world class pistons for your five decade old hot-rod Honda.

Honda cb750 sohc models seem to love this bore size with or with-out port work with great reliability
These kits are commonly used with slight combustion chamber modifications and camshafts similar to the CX-11 for best results.
Depending on the year or combustion chamber modifications the compression ratios are in the 11.5 ish to 12.5 ish range. Your camshaft selection, milling, chamber modifications and gasket thickness will affect or alter these compression ratio figures.

Why Cycle X sleeves?
Our cylinder sleeve are denser, harder and longer wearing than any sleeve on the market. Most machinists can hear and feel the difference when boring/honing the cylinders.

Note: Cylinders will require re-sleeving.

These pistons have a bare weight of 173 grams and have a Armor Glide skirt coating, tool steel wrist pins, XA ring sets, .00190 piston to cylinder wall clearance, and larger and deeper valve pockets for big valves and big camshafts.

ENP-890-KIT $869.00 LIMITED QUANTITY! NOW IN STOCK!

For the "F" model version of these pistons, refer to the F2 page.
Featured Product #2:
Refurbished Honda CB750 SOHC Cylinder With Wiseco 836cc Piston Kit.
Refurbished mania continues !!!

Kit includes:
* High quality Wiseco 65mm , 836cc , 10.25 compression ratio, XC ring packs.
* Good finned cylinder.
* Glass beaded.
* Surfaced to clean up.
* 6 long Heli coils.
* Bored and Honed.
* New cylinder sleeve "O" rings.
Oil feed "O" ring modification. This modification is a old racer procedure to keep the feed "O" rings in place .... A good idea.

Retail price $975.00 # RF-222
Your cost $899.00

Featured Product #3: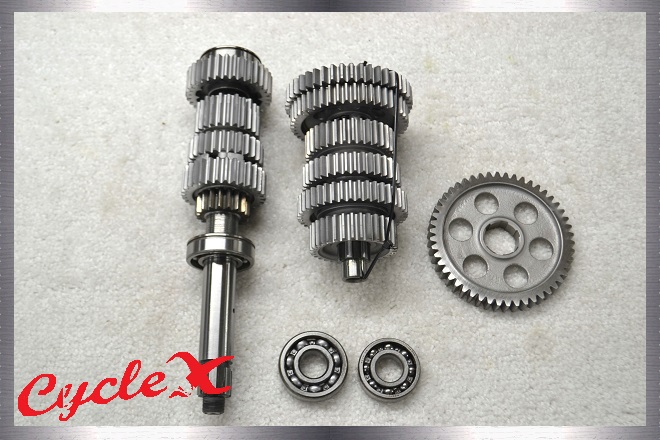 Refurbished "Poor Mans" Close Ratio Transmission.
Includes:
Near perfect Non-undercut gears.
Closely inspected and glass beaded.
Reassembled with Honda OEM clips.
Includes 4 Japanese quality bearings.
Ratios:
1st gear 2.5 ratio.
2nd gear 1.708 ratio.
3rd gear 1.333 ratio.
4th gear 1.096 ratio.
5th gear .967 ratio.

Quote from a customer.
"After buying 3 different transmissions on E-bay and disappointed with all of them. I bought a Cycle X "close ratio" tranny.
Couldn't be happier with the quality and ratios."
John From Canada

Outright Sale $ 289.00 RF-333
PLEASE CALL TO ORDER
Featured Product #4:
CYCLE X BILLET HIGH PERFORMANCE TRANSMISSIONS

The highest level Honda CB750 SOHC products is our goal.

Our newest addition to the highest level Honda CB750 products available are the race proven complete transmissions.



Transmission and Cycle X Chain Wheel and Hub Combo

These transmissions feature large unbreakable dogs, super polished and race proven.
These transmissions are for high horsepower applications or for people that simply want the best products for their special Honda CB750's.
The transmission also comes with the 4 bearings (mainshaft and counter shaft) (Japanese bearings)

1st

17 – 38

2.235:1

} 30.9%

} 19.8%

} 14.2%

} 11.8%

2nd

22 – 34

1.545:1

3rd

25 – 31

1.240:1

4th

31 – 33

1.065:1

5th

33 – 31

0.939:1

Overall reduction 1st – 5th

58.0%

The Cycle X Refurbished Chain Wheel and Outer Clutch Hub Details:

We disassembled the cush drive and glass bead for inspection. The inner portion of the hub is drilled and tapped for screws to replace the long rivets installed by Honda to hold the drive together.

Before installing the new cush drive rubbers, we measure the amount of deflection or wobble the two sprockets have. Most hubs have different measurements. But, they generally deflect or wobble over 2mm measured by the outer tooth area, relying on the cush rubbers to keep things somewhat stable. With that said, we surface the outer plates and machine the inner portion to reduce this deflection and wobble.

Before we install the specific length and material cush drive rubbers, we remove and install (2) new needle bearings on the inside.


We like to use later model clutch arrangements and will also fit in earlier motors.
This chain wheel and clutch combo has been refurbished as described above with inner clutch hub oiling modifications.
The chain wheel and clutch assembly combo is then balanced to absolute perfection. (1/2 gram, 1 in. from the center line)

ENL-032 $2999.00

Call to order. Only One (1) available.
Featured Product #5:




EEFull Race Billet Transmission with 6 spring multi-plate clutch system.


8 friction plates.
6 clutch springs.
Refurbished chain wheel.
Modified clutch plate oiling.
Balanced to perfection chain wheel and clutch assembly

Transmission is similar to the featured #1 product above.

Price and availability coming very soon.
Featured Product #6: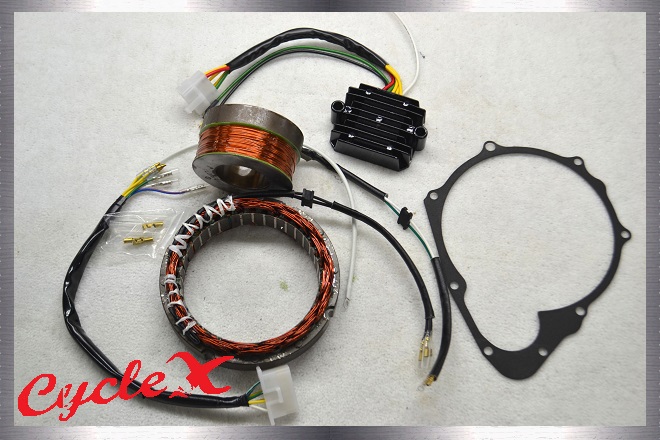 Honda CB750 (69-78) Rick's Electrics Complete Refurbished Charging Systems
NEW Cycle X "High output 20 amp system"

$ 499.00
These Rick's Electrics refurbished, rewound stators and field coils should solve your charging problems for good. Fresh wires and exit rubbers with make your assembling procedure a breeze.
Also included is a Rick's solid state voltage regulator.
Also comes with a gasket.

Note:
Stock Honda cb750 charging systems are approx. 13.5 amps and are prone to be even lower with old wires and poor connections.
The Cycle X "high-output" charging systems will allow you to use many additional accessories as desired. Now In Stock!



Featured Product #7: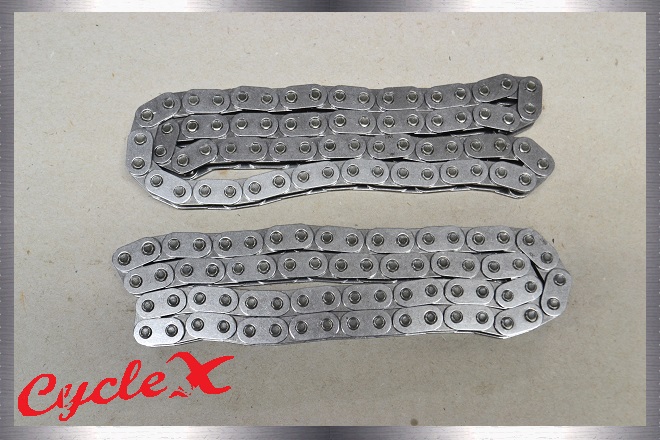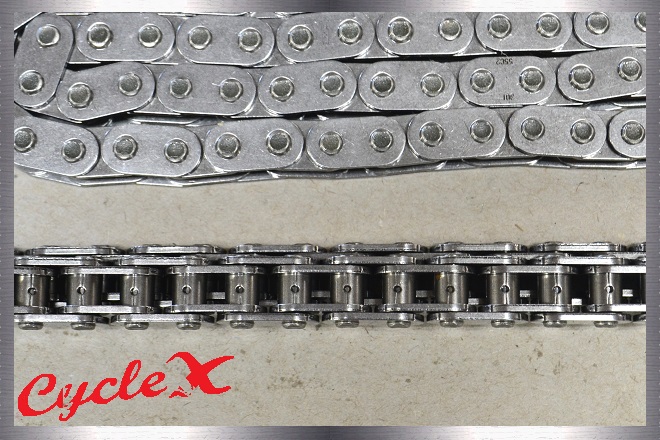 Cycle X Cryo Treated High Performance Primary Chains
Quote:
"We've tried every chain on the market for the past 4+ decades. These chains are the best."
Quote:
(E-mail) "What ever happened to the Cryo performance chains on the website? We need them for a few builds."

We have been receiving phone calls and emails from performance minded people wanting our performance primary chains again. Some people are willing to wait to assemble their motor until the chains are officially back in stock.

The chains are being cryo treated and should be done in a week or two. It's worth the wait!
$179.00 for a pair! ENV-012 NOW IN STOCK!

Featured Product #8: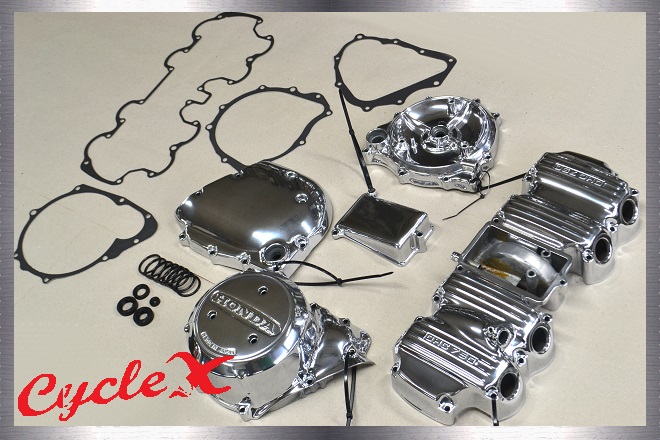 Polished Honda CB750 SOHC Covers (Amazing Quality)

Sorry aluminum polishers. Our polished covers are better than yours.
These covers are absolutely polished to perfection.
We have also included a set of our world class no-leak cover gaskets, oil seals and o-rings to complete this kit.
Attention restoration folks! You might not want these covers, because they are better than original Honda covers.

Note: Does not include the valve inspection caps.

$499.00 (Outright sale)


We Now Offer Sets Of Powdered Coated Gloss Black, Satin Black , Gold & Silver Cover Sets
Check Em All Out On The Polished, Chrome & Powder Coated Covers Page!
A 3.99% customer service charge is applied to all phone orders.
If ordering via phone, please also provide the part # of any products you are interested in for faster and more accurate service.
If you encounter a (rare) broken button as you're trying to add parts to your cart (going to PayPal summary instead of your cart or not opening PayPal at all) or anything else of concern, please call us to report it. We'll try to have it fixed for your convenience within the next 5-10 minutes. Afterwards, refresh the page and try again.
NOTE: As of July 1st, 2018, an extended goods and services tax (GST) has been applied to all Australian consumers buying overseas, charging an extra 10% in taxes to us with each purchase. To ensure that you can continue to purchase from us in Australia and we can provide our parts at our usual lower cost, please
contact us at the email below
if interested in any particular parts so that we can make a special shipping arrangement for you.
It is the sole and exclusive responsibility of the purchaser to determine the suitability of any part, product or work for his or her use.
The purchaser shall assume all legal, personal injury risk and liability and all other obligations, duties and risks therewith.
There is no warranty on High Performance motors.
Cycle X Global Headquarters
6246 US Hwy 51 South
Hazelhurst, WI 54531
Phone: 715-356-7346
Email: hotrodcyclex@gmail.com

<>