Cycle X
6246 US Hwy 51 South
Hazelhurst, WI 54531
USA
Phone: 715-356-7346
Email: hotrodcyclex@gmail.com
Featured Product #1: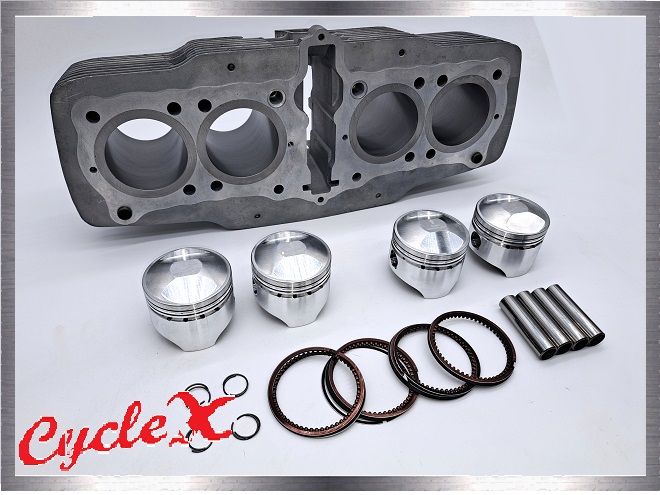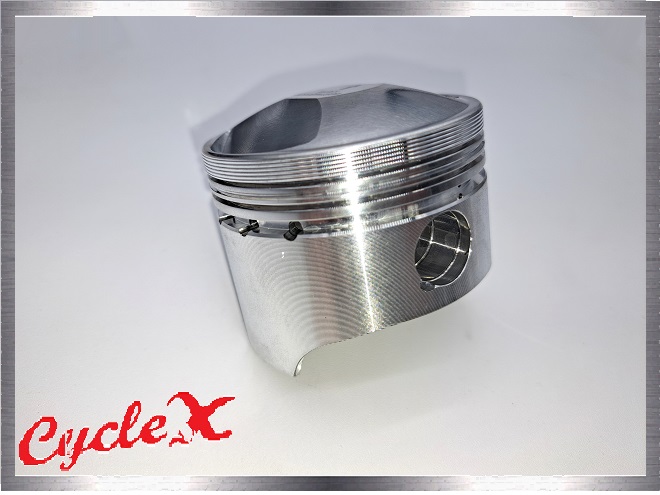 CycleX 811cc piston kits. The perfect medium size big bore kits. "NEW"

Some people think that boring a Honda cb750 cylinder to 65mm (836cc) makes the sleeves a bit thin... sometimes we think that also.
Introducing the CycleX, Wiseco 64mm (811cc) medium big bore kits.
Still retains nice cylinder wall thickness.
155 grams (bare weight)
Generous valve pocket relief for larger camshafts.
10.25 compression ratio.
Great piston kit!!!
So,
Cylinder has perfect fins.
Blasted, surfaced, heli-coiled, feed "O" ring modification, bored and honed.

CycleX piston and cylinder combo kit.

$1025.00

Featured Product #2: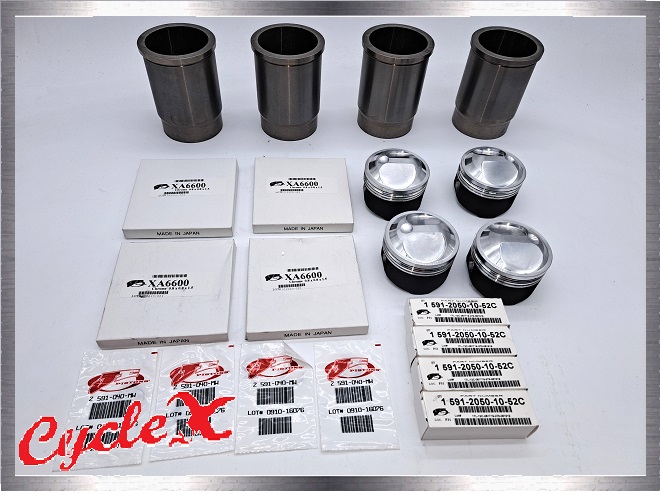 860cc Ultimate 77-78 SuperSport Piston Kit ... 10.5:1 and higher ratios.
Higher ratios will depend on milling and gasket selections.

This "ultimate" F2-F3 piston kit combined with other "go fast" items will insure you will be able to fight off the most determined street racers.

Other recommended "go fast" items:
Mikuni RS34mm carburetors.
CX-10 or CX-11 camshaft.
Fully ported #410 cylinder head.
All other heavy-duty parts .... Con-rods, studs, under-cut transmissions and such.
$ 928.00

Honda CB750 SOHC Reconditioned OEM Oil Pumps
Cleaned, checked, new "O" rings, gasket and shimmed pressure relief valve for added and consistent pressure.
We took 63 oil pumps apart, inspected and reconditioned only the best survivors from the olden days.
These oil pumps were fitted with all new rubber parts, gasket and springs.

OL-086 $249.00
Exchange basis only - Call to order
Featured Product #4: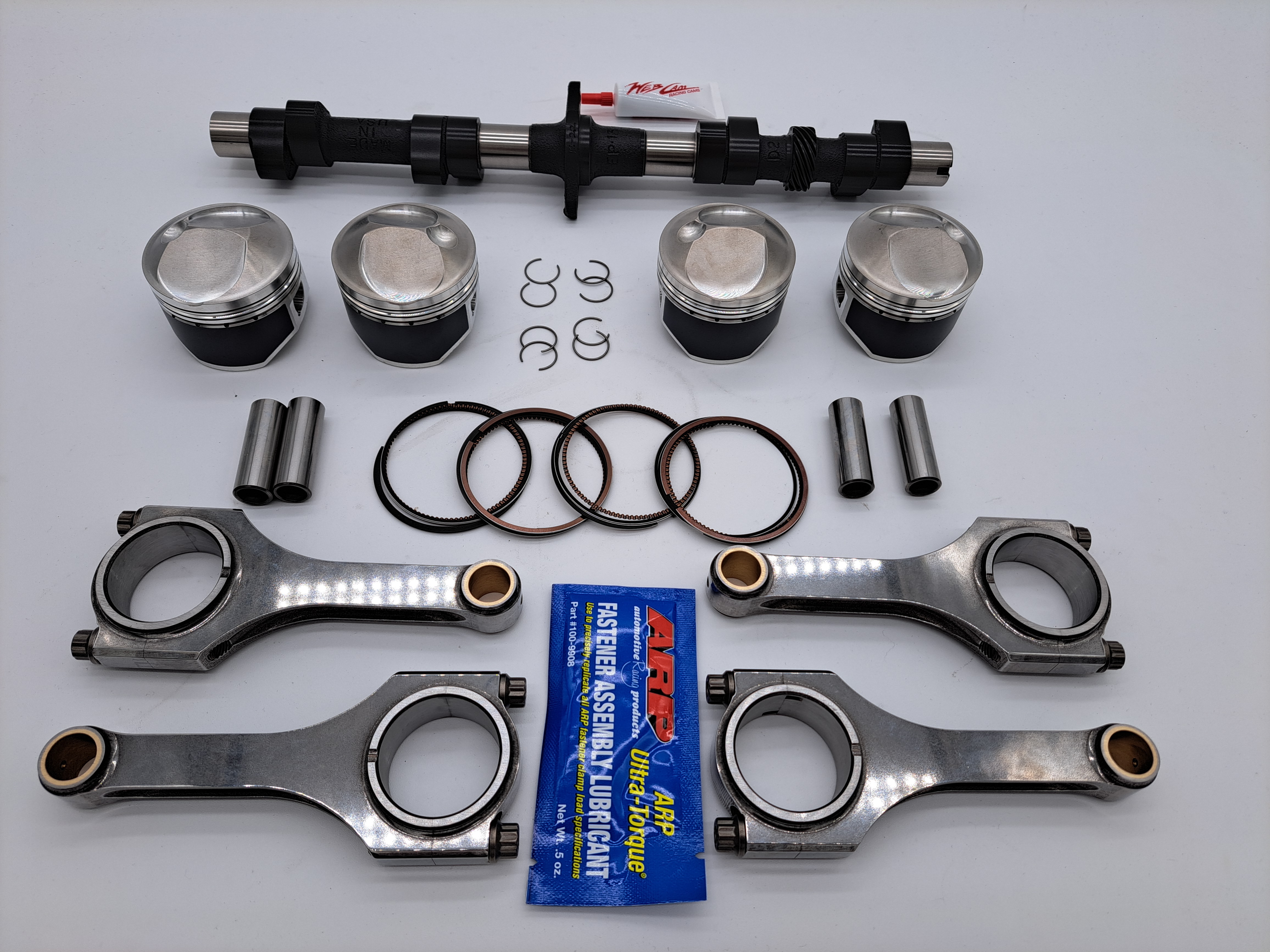 Winning Combination For AHRMA Racers.
62mm Wiseco "Pop Top" piston set.
SX-1 camshaft.
CycleX 3rd generation Super-rods.
$ 1850.00

Featured Product #5: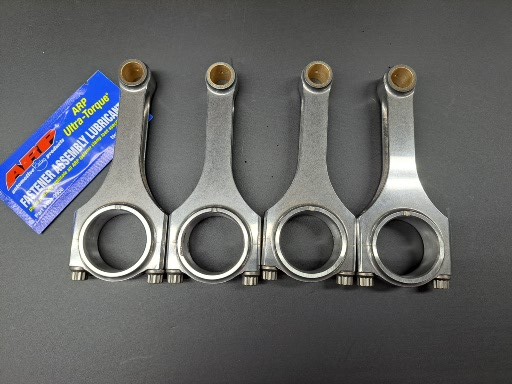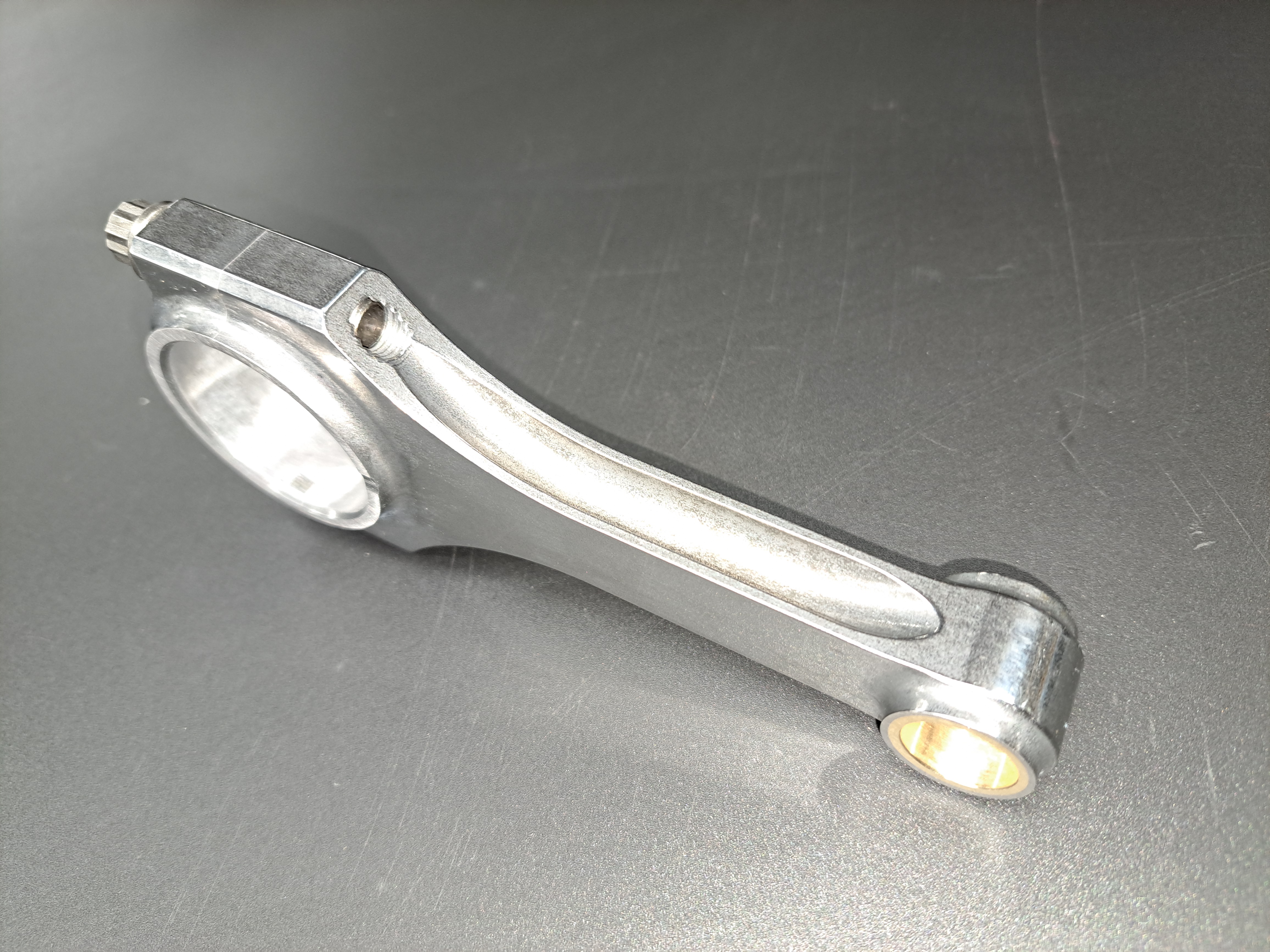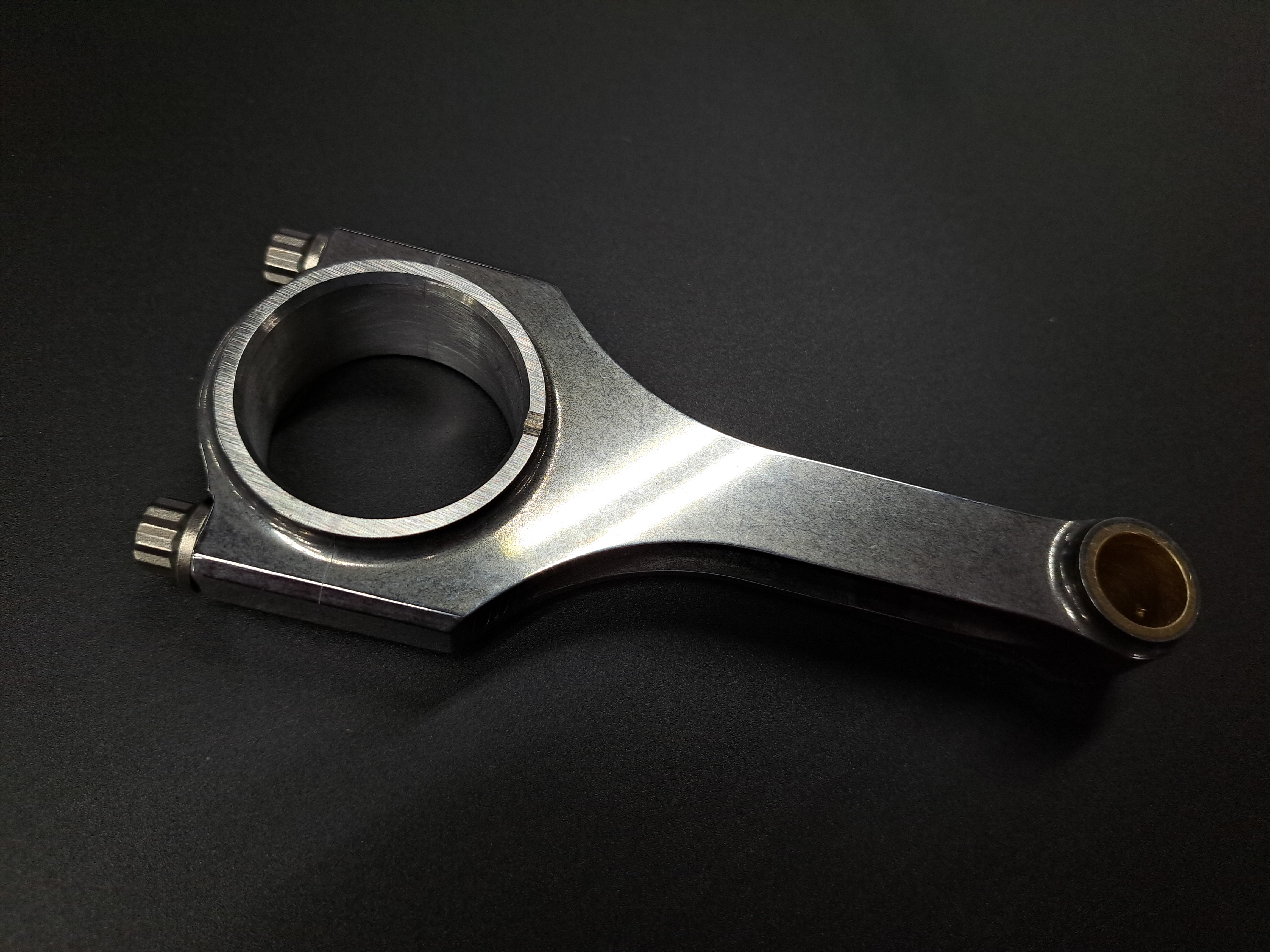 3rd Generation CycleX Super Rods
Introducing the 3rd generation CycleX Super Rods.
Technical Features:
Fully CNC machined.
Forged 4340 Steel.
Heat treatment: HRC33-38.
+/- 1 gram.
Magnafluxed, Shot peened.
Fully polished.
Also featuring ARP2000 connecting rod bolts:
ARP 2000 bolts are a alloy steel that can be safely heat treated to a higher level, producing a greater strength material than ARP 8740 Chrome Moly bolts.
ARP2000 bolts are capable of achieving a clamp load of 220,000 psi.
ARP2000 connecting rod bolts are widely used used in short track and drag racing with extreme horsepower.
$ 689.00 NOW IN STOCK!

Featured Product #6:
62 MM Armor Glide Coated Cycle X Vintage Racing Pistons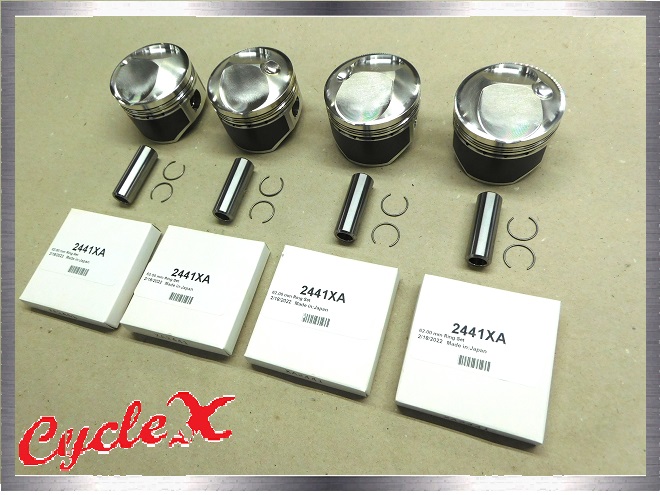 These 1.00mm over piston sets will be race legal in all formula vintage motorcycle road races and feature a 12.5 compression ratio.
Lightest pistons in the industry for your go-fast project.

COMPRESSION RATIO REFERENCE NOTES:
Bore : 62mm
Stroke: 63mm
Cylinder Head Volume: 22cc
Gasket Thickness: 1.2mm
Deck: 8mm
Piston Dome Volume: 11.5cc
Calculated Compression Ratio: 12.5:1
151 Grams ( Bare Weight)
Tool Steel Wrist Pin: 35 Grams
3 Pc. XA Ring Set
ENP-VRP $ 875.00 IN STOCK!
Featured Product #7: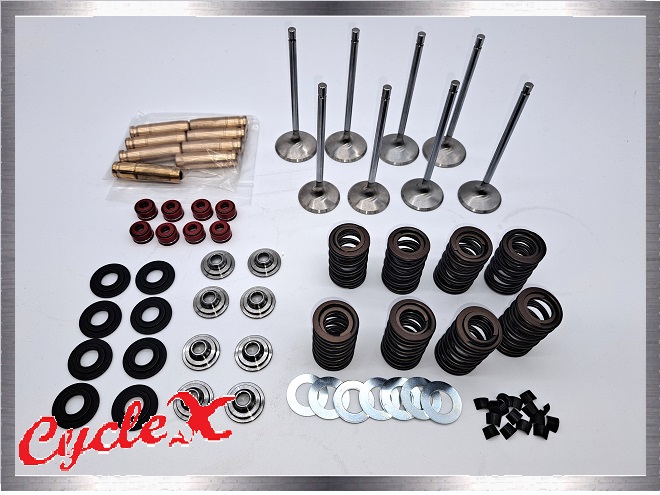 The Highest Level. 77-78 F2-F3 5mm valve system.

We are proud to reintroduce the 77-78 Honda cb750 Super sport 5mm valve kit.
This kit is used by the top engine builders world wide.
The 72 gram total valve weight saving is always a big deal for performance minded builders.
Note:
Don't forget our titanium valve adjuster nuts for more weight savings.
# HR-001 $ 949.00 ( Limited Supply)

Featured Product #8:

1000cc Piston & Cylinder Combo.
Pistons:
Wiseco/CycleX 71mm piston kit with max compression.
Comp. Ht. 0.9255
Bore: 2.7952
2795XC rings.
Generous valve pockets for oversize valves and large camshafts.

Cylinder work:
Blast cylinder.
Stock sleeves removed.
Cylinder bottom surfaced.
Cylinder block bored and honed to accept big-bore sleeves.
Heat and install sleeves.
Surface the top side.
Bore and hone for the 71mm pistons.
Bevel sleeves.
Cylinders are treated with a special filler between 1&2 and 3&4 cylinders for strength.
Machine and install dowel pins to keep the oil feed "O" rings in place.
Total milling from cylinder top and bottom is .008.
Note:
The cylinder has been machined for "O" ring wire .... Generally used with copper head gaskets.
# RF-20 $ 1449.00

3.99% customer service charge is applied to all phone orders.
If ordering via phone, please also provide the part # of any products you are interested in for faster and more accurate service.
If you encounter a (rare) broken button as you're trying to add parts to your cart (going to PayPal summary instead of your cart or not opening PayPal at all) or anything else of concern, please call us to report it. We'll try to have it fixed for your convenience within the next 5-10 minutes. Afterwards, refresh the page and try again.
It is the sole and exclusive responsibility of the purchaser to determine the suitability of any part, product or work for his or her use.
The purchaser shall assume all legal, personal injury risk and liability and all other obligations, duties and risks therewith.
There is no warranty on High Performance motors.
Cycle X Global Headquarters
6246 US Hwy 51 South
Hazelhurst, WI 54531
Phone: 715-356-7346
Email: hotrodcyclex@gmail.com

<>