Cycle X
6246 US Hwy 51 South
Hazelhurst, WI 54531
USA
Phone: 715-356-7346
Email: hotrodcyclex@gmail.com
Credit: David Carlo Photography
Featured Product #1: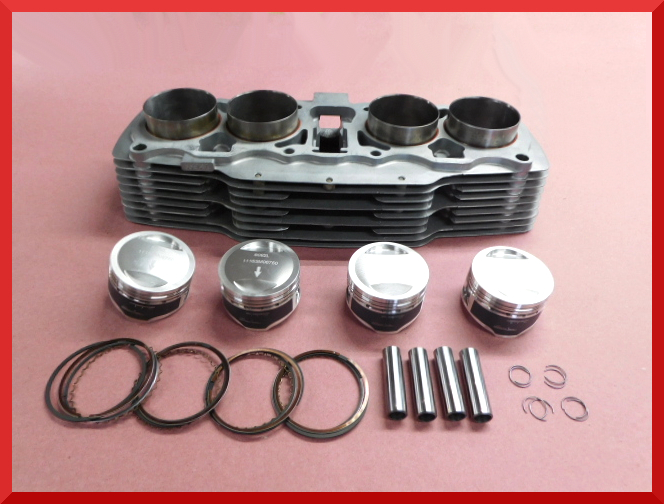 67.5 Piston And Cylinder Combo.

Includes:
10.25 to 1 Wiseco armor glide piston set.
XC ring sets for easy installation.
CycleX big-bore sleeves ... Tapered to fit in stock upper cases.
157 grams pistons (bare weight)

Machine work:
Glass beaded.
Cylinder block re-sleeved to larger big-bore sleeves.
Bored and honed.
Surfaced (both sides) to .026 undersize.
(6) 12mm long Heli-coils.
Hard blocked between 1&2 and 3&4 cylinders.
Oil feed "O" ring modification. Keeps "O" ring from shifting or moving.

Note:
This machine work was performed on the preferred early cylinder.
Only 1 in stock.
# 906-CMB $ 1425.00
71mm 1000cc Race Piston Sets with Race Domes
These pistons are for serious engine builders and feature a full dome design.
Accommodates for oversize valves and big boy camshafts.
Mathematically, these piston sets are approx. 16.5 to 1 with a 22cc combustion chamber and approx. 12.5 to 1 with a 28cc combustion chamber.
XC rings sets for easy assembly.
ENP-1000CC $799.00

Featured Product #3:
New Six Spring Honda CB750 SOHC Clutch System for High Horsepower Applications.
Includes new Billet lifter plate.

The six spring, seven friction and steel clutch system is a bolt-in upgrade for your Honda CB750 SOHC hot rod. These systems have been around for years and are generally used on 90+ horsepower Hondas or synthetic oiled race bikes. The frictions, steels, and springs are interchangeable with all CB750 SOHC models up to 1978.
Cycle X 6 spring clutch system benefits:
The six springs give a clutch tuner more pressure options. For example: 3 weak springs, 3 strong springs, 6 weak or 6 strong springs.
8 friction plate design will handle the most demanding horsepower applications without using ridiculous spring pressures used on 4 spring designs.
New steels are included to insure the system will work perfectly.
New mild pressure springs are generally perfect for most applications.
Kit includes:
6 spring Billet lifter plate with new bearing.
Inner clutch hub "modified".
Outer steel clutch hub "modified".
bolts, gasket and oil seals.
New clutch springs.
New clutch fibers. (EBC brand)
Honda OEM clutch steels.
New lock tab.
This kit also includes a modified clutch cover because the 6 spring clutch system is 6mm wider than stock.
6 springs. 8 frictions.
Note: This kit consists of new, modified and refurbished Honda parts.
Also,
Consider the easy pull clutch cable for the best Honda cb750 clutch system in the world.
ENL-030 $499.00
"I just want to thank Ken at Cycle X for all his assistance with my clutch problems. I had a Barnett extra plate clutch, and although it didn't slip,
it had jerky and noisy engagement. I tried a different clutch and that engaged smoothly and quietly but slipped in the upper gears.
Cycle X 6 spring conversion cured all these problems. I've attached some pictures of my bike. Thank you."
- Turbo Gregg

Featured Product #4: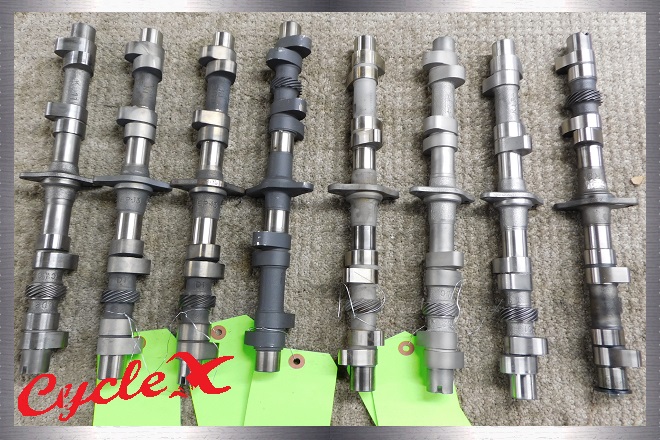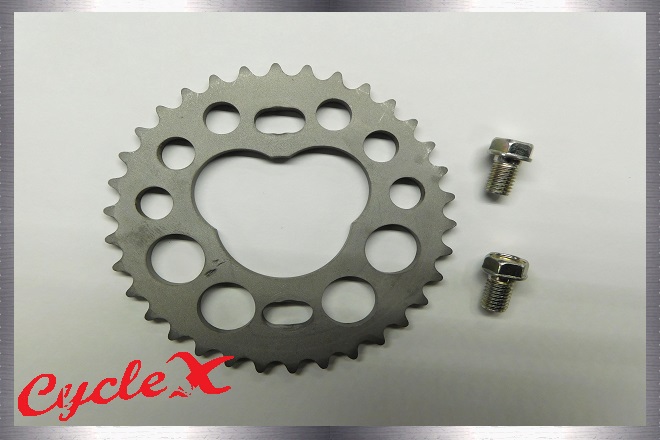 Camshafts for sale.
Most of these camshafts are new and were generally used for checking valve sinking, lifts, durations, valve to valve,
imperfect rocker arm ratios, lobe centers and such.
They do not come in the original boxes so they are considered almost new.
All camshafts will include refurbished/slotted cam chain sprockets and shouldered bolts for degreeing.

Click Here To Go To Camshaft Page For Available Cams
Featured Product #5:
NOW BACK IN STOCK!!!!!!!!
CARRILLO Connecting Rods
We would like to welcome CARRILLO connecting rods to our lineup of hot rod Honda CB750 SOHC parts. These connecting rods are used by the top engine builders worldwide.
ENL-CCR $1499.00

3.99% customer service charge is applied to all phone orders.
If ordering via phone, please also provide the part # of any products you are interested in for faster and more accurate service.
If you encounter a (rare) broken button as you're trying to add parts to your cart (going to PayPal summary instead of your cart or not opening PayPal at all) or anything else of concern, please call us to report it. We'll try to have it fixed for your convenience within the next 5-10 minutes. Afterwards, refresh the page and try again.
NOTE: As of July 1st, 2018, an extended goods and services tax (GST) has been applied to all Australian consumers buying overseas, charging an extra 10% in taxes to us with each purchase. To ensure that you can continue to purchase from us in Australia and we can provide our parts at our usual lower cost, please
contact us at the email below
if interested in any particular parts so that we can make a special shipping arrangement for you.
It is the sole and exclusive responsibility of the purchaser to determine the suitability of any part, product or work for his or her use.
The purchaser shall assume all legal, personal injury risk and liability and all other obligations, duties and risks therewith.
There is no warranty on High Performance motors.
Cycle X Global Headquarters
6246 US Hwy 51 South
Hazelhurst, WI 54531
Phone: 715-356-7346
Email: hotrodcyclex@gmail.com

<>