Cycle X
6246 US Hwy 51 South
Hazelhurst, WI 54531
USA
Phone: 715-356-7346
Email: hotrodcyclex@gmail.com
Featured Product #1:


New offerings.
Polished hubs with or without chrome spokes.

Rear hub combo:
Rear hub had the bearings removed, blasted and polished to absolute perfection (none better)
Rear combo includes chrome 18 inch spokes.

Front hub combo includes:
Front hub had the bearings removed, blasted and polished to perfection (the best)
Front combo includes chrome 19 inch spokes.

Note:
We have a very limited supply of hubs with the inner ribs machined off (give a call for those)
We also have the 2 different front hub speedometer arrangements (give a call for those)

CHECK THESE OUT ON OUR WHEEL PAGE
(CLICK HERE)

Featured Product #2:


The Perfect Honda CB750 SOHC Transmissions.
New proven undercutting procedures.

We have reduced the undercut angles to 2 degrees resulting in better shifting for street, road race and drag racing.
We also undercut both sides of the male/female dogs for acceleration and deceleration improvements.
Our new machining set-ups and procedures are quicker and extremely precise.

Our favorite transmission package: (above right)

Closer ratio transmission option. (perfect for road racing)
2 degree cuts on 2nd, 3rd and forth gears (both sides)
(6) transmission bearings.
Upgraded super finished shift drum. (super important)
(3) super finished shift forks.
CLICK HERE TO CHECK THEM OUT ON OUR TRANSMSIION PAGE

Featured Product #3:

860cc 66mm piston and cylinder combo
Great kit.

JE pistons 66mm. 860cc
XA ring sets and tool steel wrist pins.
Generous valve pockets for large valves.
CycleX big-bore sleeves ... Tapered to fit in stock upper cases.
155 grams (bare weight)

Machine work:
Glass beaded.
Cylinder block re-sleeved for greater wall thickness (larger big-bore sleeves).
Bored and honed.
Surfaced (both sides) to .009 undersize.
(6) 12mm long Heli-coils.
Hard blocked between 1&2 and 3&4 cylinders.
Oil feed "O" ring modification. Keeps "O" ring from shifting or moving.

Note:
This kit initially developed for TQ mini sprint cars. The pistons were modified for hot street life and average 10.75 to 1 compression ratios (depends on gaskets thickness etc)
Armor glide skirt coated and ceramic dome coated to repel unwanted heat.
This machine work was performed on the preferred early cylinder.

Note:
These pistons were in a motor and run on a test stand briefly. (virtually new)
The pistons were then coated and the cylinder work was performed.
Only 2 Available. Call or email to order
$ 1495.00

Featured Product #4:

67.5 900cc piston and cylinder combo.
Includes:
10.25 to 1 Wiseco armor glide piston set.
XC ring sets for easy installation.
CycleX big-bore sleeves ... Tapered to fit in stock upper cases.
157 grams pistons (bare weight)

Machine work:
Glass beaded.
Cylinder block re-sleeved to larger big-bore sleeves.
Bored and honed.
Surfaced (both sides) to .026 undersize.
(6) 12mm long Heli-coils.
Hard blocked between 1&2 and 3&4 cylinders.
Oil feed "O" ring modification. Keeps "O" ring from shifting or moving.

Note:
This machine work was performed on the preferred early cylinder.
Only 1 in stock. Call or email to order.
# 906-CMB $ 1525.00

Featured Product #5:


BREAKING NEWS!
Kibblewhite has discontinued 5mm light weight valve systems ... we bought them.

A little history on the kits:
These 5mm valve stem kits have been around for nearly 2 decades with great success in all forums of racing.
These kits are also used in the TQ minisprint car world where the Honda SOHC motors are routinely revved over 12 grand with-out issues.
Available for 77-78 F models and 69-78 K models.

New feature:
We also offer a few different valve stem keeper groove positions to adjust your spring pressures as needed.
New lower pricing while supplies last.
Pricing and availability TBA - Stay tuned.

Featured Product #6:


812cc 64mm piston and cylinder kit.
"Best mid-size performance upgrade"

Pistons:
Wiseco 64mm pistons with valve pocket increases for milder camshafts.
10.25 compression ratios (perfect for all around performance)

Cylinder:
Perfect fins on a late model cylinder.
Blasted with medium grit ... ready for paint.
(6) 12mm long Heli-coils for added strength.
Surfaced to clean-up.
Bored and honed.
Oil feed "O" ring modification.
64mm bore allows ample cylinder wall thickness for longevity.
Call or email to order
$ 1425.00 # RF-812

Featured Product #7:



BACK IN STOCK NOW!
The CycleX Cam Chain Tensioners are back in stock.
Visit the cam chain page for the details.
$ 349.00


Featured Product #9:

67.5 900cc piston and cylinder combo.
Includes:
10.25 to 1 Wiseco armor glide piston set.
XC ring sets for easy installation.
CycleX big-bore sleeves ... Tapered to fit in stock upper cases.
157 grams pistons (bare weight)

Machine work:
Glass beaded.
Cylinder block re-sleeved to larger big-bore sleeves.
Bored and honed.
Surfaced (both sides) to .026 undersize.
(6) 12mm long Heli-coils.
Hard blocked between 1&2 and 3&4 cylinders.
Oil feed "O" ring modification. Keeps "O" ring from shifting or moving.

Note:
This machine work was performed on the preferred early cylinder.
Only 1 in stock. Call or email to order.
# 906-CMB $ 1525.00

Featured Product #10:

Budget Honda CB750 SOHC Wheel Set.
$ 699.00 per pair - Call or Email To Order
Check Them Out Here On Our Wheel Page

Featured Product #11: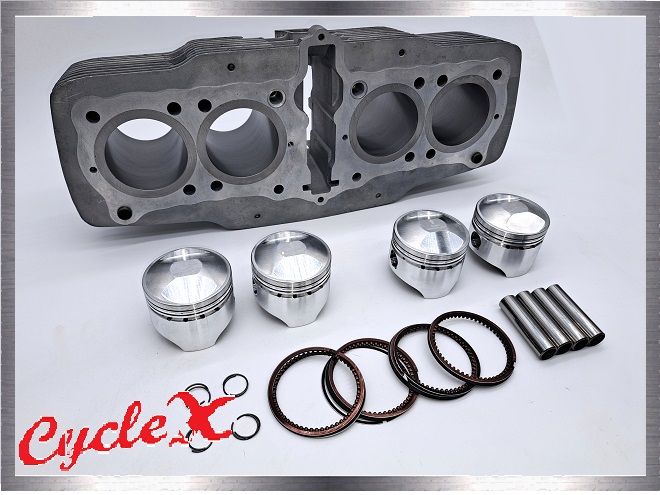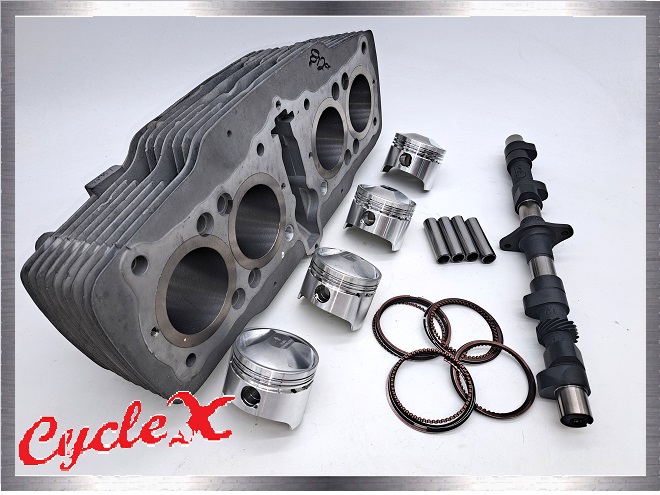 OPTION # 1 OPTION # 2
Option #1:
CycleX 811cc piston kits. The perfect medium size big bore kits. "NEW"

Some people think that boring a Honda cb750 cylinder to 65mm (836cc) makes the sleeves a bit thin... sometimes we think that also.
Introducing the CycleX, Wiseco 64mm (811cc) medium big bore kits.
Still retains nice cylinder wall thickness.
155 grams (bare weight)
Generous valve pocket relief for larger camshafts.
10.25 compression ratio.
Great piston kit!!!

So,
Cylinder has perfect fins.
Blasted, surfaced, heli-coiled, feed "O" ring modification, bored and honed.

CycleX piston and cylinder combo kit.
$1425.00 Call or email to order.
Option #2:
811cc piston kit, deluxe cylinder work and camshaft.

This #2 combo might be the best mild performance upgrade ever offered.
CX-1, CX-2 and SX-1 are the perfect match for the 811cc (64mm) piston kits.
$ 1725.00 Call or email to order.
OUR PAGES:
3.99% customer service charge is applied to all phone orders.
If ordering via phone, please also provide the part # of any products you are interested in for faster and more accurate service.
If you encounter a (rare) broken button as you're trying to add parts to your cart (going to PayPal summary instead of your cart or not opening PayPal at all) or anything else of concern, please call us to report it. We'll try to have it fixed for your convenience within the next 5-10 minutes. Afterwards, refresh the page and try again.
It is the sole and exclusive responsibility of the purchaser to determine the suitability of any part, product or work for his or her use.
The purchaser shall assume all legal, personal injury risk and liability and all other obligations, duties and risks therewith.
There is no warranty on High Performance motors.
Cycle X Global Headquarters
6246 US Hwy 51 South
Hazelhurst, WI 54531
Phone: 715-356-7346
Email: hotrodcyclex@gmail.com

<>