| | |
| --- | --- |
| | |
Credit: David Carlo Photography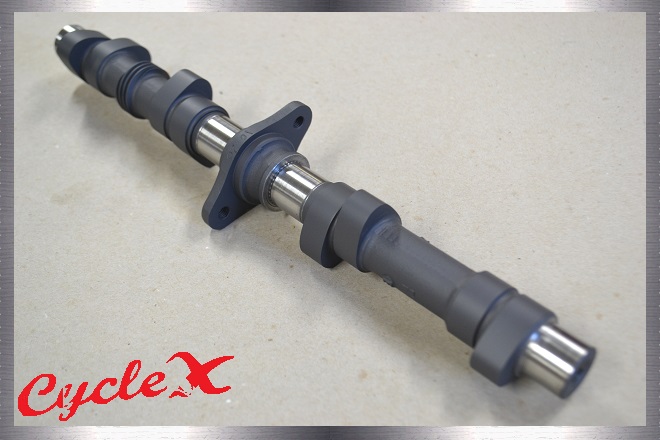 Featured Product #1:
CX1-R-975, CX1-R-990, & CX1-R-1000 Drop-In Camshafts
No valve to valve or valve to piston checking needed. These 975, 990 and 1000 camshafts are all drop-in camshafts with ever-so-slight differences in characteristics that many people never notice. Check out the specifications or call for further advice. By the way, these drop-in camshafts might be the easiest install and best bang-for-the buck when it comes to performance upgrades.
Very similar to the CX-1.
As seen on our camshaft page and tech tips page.
Photo is for reference only...not actual parts!
Featured Product #2:
Full Floating, Self Compensating Cam Chain Tensioner

These cam chain tensioners are designed to float and compensate for milled heads, thinner gaskets, worn/stretched cam chains and hard deceleration which destroys OEM tensioners. The arrows show how the sliders can move a few degrees to compensate for the above mentioned problems.

Features:
✓
Proven XPA 46 slider material.

✓
Floating/compensating design.

✓
No more than four chain links unsupported.

✓
Front slider is longer with a gentle curve.

✓
Oil drippers on both rear sliders.

✓
Guaranteed for life!

✓
Stock length cam chains, peanut or straight
side plates are fine.
Note: Fixed slider designs shift the pressure points upward and only make contact at the very top when thinner gaskets, milling and stretched chains.
As seen on our camshaft page and brand new tensioner page.
A 3.99% customer service charge is applied to all phone orders.
If ordering via phone, please also provide the part # of any products you are interested in for faster and more accurate service.
If you encounter a (rare) broken button as you're trying to add parts to your cart (going to PayPal summary instead of your cart or not opening PayPal at all) or anything else of concern, please call us to report it. We'll try to have it fixed for your convenience within the next 5-10 minutes. Afterwards, refresh the page and try again.
NOTE: As of July 1st, 2018, an extended goods and services tax (GST) has been applied to all Australian consumers buying overseas, charging an extra 10% in taxes to us with each purchase. To ensure that you can continue to purchase from us in Australia and we can provide our parts at our usual lower cost, please
contact us at the email below
if interested in any particular parts so that we can make a special shipping arrangement for you.
It is the sole and exclusive responsibility of the purchaser to determine the suitability of any part, product or work for his or her use.
The purchaser shall assume all legal, personal injury risk and liability and all other obligations, duties and risks therewith.
There is no warranty on High Performance motors.
Cycle X Global Headquarters
6246 US Hwy 51 South
Hazelhurst, WI 54531
Phone: 715-356-7346
Email: hotrodcyclex@gmail.com

<>