Done!!!
Cam Chain Tensioners...Here is the Problem!
The above photos show an OEM Honda tensioner and an unidentified aftermarket tensioner. These photos were from an AHRMA vintage roadracer's bike (thanks Matt Esterline #237) and clearly show the problem. The OEM tensioner lasted approx. 3 weekend races and the aftermarket tensioner approx. 10 weekend races. These types of product malfunctions are exaggerated when racing is involved, but racing makes for a good test because these results happen in street bikes as well.
Note: Matt's bike is using an OEM stock cam chain tensioner rather than a manual tensioner that has been overadjusted.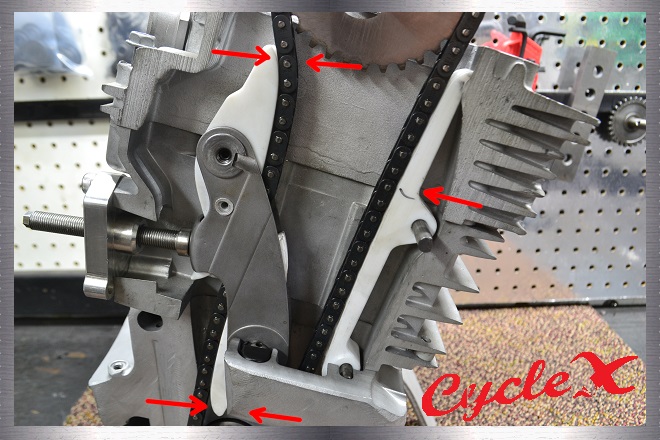 Original Press Release (Just a reminder.)

These cam chain tensioners are designed to float and compensate for milled heads, thinner gaskets, worn/stretched cam chains and hard deceleration which destroys OEM tensioners. The arrows show how the sliders can move a few degrees to compensate for the above mentioned problems.

Features:

✓

Proven XPA 46 slider material.


✓

Floating/compensating design.


✓

No more than four chain links unsupported.


✓

Front slider is longer with a gentle curve.


✓

Stock length cam chains, peanut or straight
side plates are fine.

Note: Fixed slider designs shift the pressure points upward and only make contact at the very top when thinner gaskets, milling and stretched chains.

This project presented several obstacles that needed the expertise of a world class machine shop in the great state of Texas. With a combination of 3D imaging, motor cut-a-ways and proven XPA-46 materials, no expense was spared. This floating/self compensating design and highly accurate machining processes surely makes this a candidate for product of the decade (we like saying that).

NOTE: ITEM IS NO LONGER AS PICTURED. NOW COMES WITH A STOCK SLIPPER

ENG-108 $349.00
OUT OF STOCK




Primary Chain Tensioner

In addition to our revolutionary cam chain tensioners shown

above

, we thought you might like to see the primary chain tensioners in production. Like the cam chain tensioners, we insist that very few chain links are left unsupported and we are letting the tensioner shoe pivot as the chain likes during acceleration and deceleration. If you look closely at the 3D image, you will notice the newly machined XPA-46 shoe and an OEM tensioner wheel (in purple) in the background with the OEM wheel making contact with only two chain pin rollers (not good). The contact area from chain roller pin to rubber wheel is so small that we would have to assume that the OEM rubber wheel bounces from chain roller to roller. (Umm, not good.)

These cam chain and primary chain products are so good, we recommend taking your motor apart to install these upgrades whether your motor is stock or modified.

Once again, these tensioners could not be possible without indestructible XPA-46 material, motor cutaways, 3D imaging, and world class Texas machining (thanks to all!).

Made in the USA.

ENG-109

Production delayed. Stay tuned for future details.

A 3.99% customer service charge is applied to all phone orders.

If ordering via phone, please also provide the part # of any products you are interested in for faster and more accurate service.

If you encounter a (rare) broken button as you're trying to add parts to your cart (going to PayPal summary instead of your cart or not opening PayPal at all) or anything else of concern, please call us to report it. We'll try to have it fixed for your convenience within the next 5-10 minutes. Afterwards, refresh the page and try again.

NOTE: As of July 1st, 2018, an extended goods and services tax (GST) has been applied to all Australian consumers buying overseas, charging an extra 10% in taxes to us with each purchase. To ensure that you can continue to purchase from us in Australia and we can provide our parts at our usual lower cost, please contact us at the email below

if interested in any particular parts so that we can make a special shipping arrangement for you.

It is the sole and exclusive responsibility of the purchaser to determine the suitability of any part, product or work for his or her use.
The purchaser shall assume all legal, personal injury risk and liability and all other obligations, duties and risks therewith. There is no warranty on High Performance products.

Click to go back to our home page

Cycle X Global Headquarters

6246 US Hwy 51 South

Hazelhurst, WI 54531

Phone: 715-356-7346

Email: hotrodcyclex@gmail.com