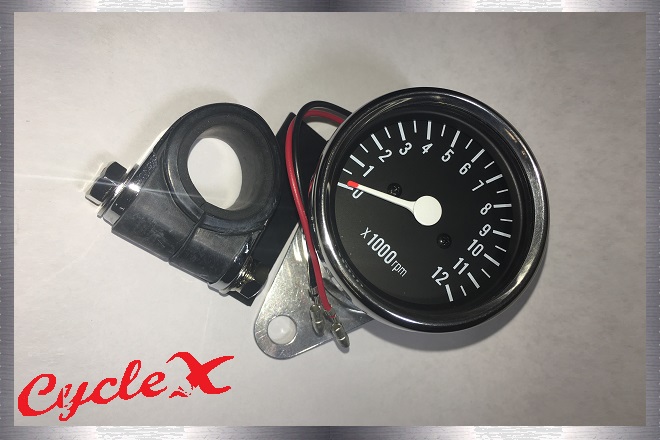 Mini Tach
Mini 12,000 RPM tachometer gauge for custom applications. Very nice little gauge that can be used on just about anything with an appropriate ratio mechanical tach drive. These can be thru bolt mounted, or bar mounted with the included handlebar clamp. Suitable for 7/8" and 1" handlebars.
Back lit illumination
58mm dial
68mm overall diameter
53.5mm depth - Not including tach drive connection
50mm bolt center to gauge center mounting bracket
MD-028A $34.95
Close out price: $24.95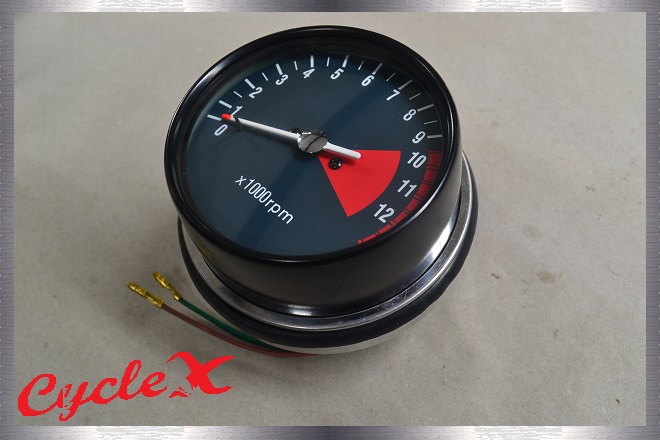 Honda 500/550 Tach
Reliable tach reading up to 12,000 RPM.
500-005 SALE PRICE $29.00
Call for availability.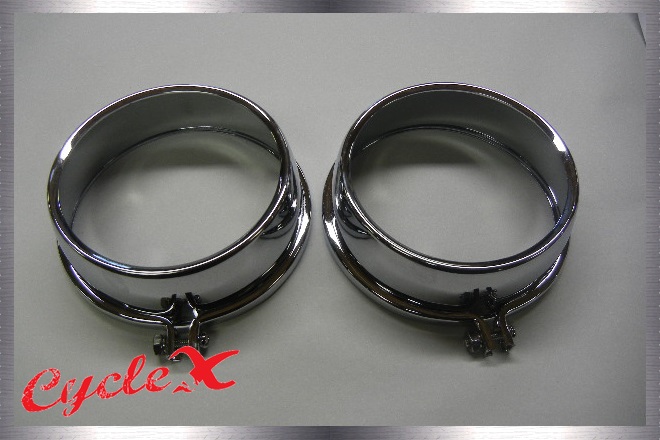 Chrome Honda Gauge Covers
Inexpensive way to dress up your bike.
MD-027 $19.95
Close out price: $14.95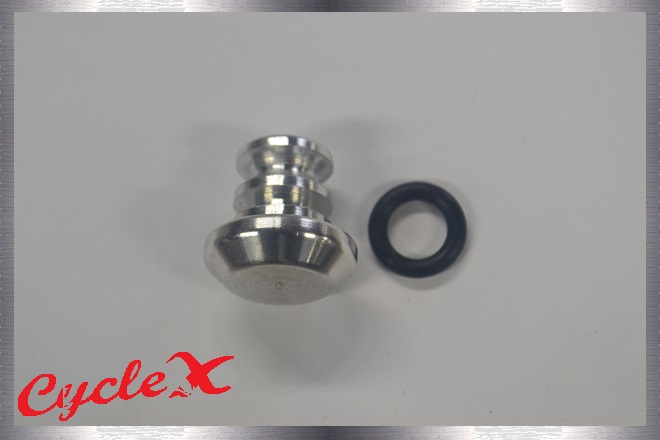 Cycle X Tach Plugs
Maybe you knew this...maybe you didn't...but here it is...

The tach plugs that you have gotten from other vendors don't plug the leak from the tach hole in the valve cover.

This is was such a no-brainer solution to a simple problem, we're surprised nobody else has done it.

Well, we did it.
MD-CXTP $16.95
Cycle X Shocks the world again!
Shoutout to Will Bass and John Kovach (customers of this attachment) for the pics!
Mini speedo attached to the front wheel drive unit. We think this is sooooooo cool!
Chrome with black face.

Frequently Asked Questions:
Question: Can you see the speedo while driving down the road?
Answer: Who cares?

Question: Is this legal?
Answer: Who cares?

Question: Has this ever been done before?
Answer: Maybe, but someone will copy this.

This super innovative speedo kit includes: Speedo, adaptor, and special cable.
Honda CB750 SOHC 69-78
MD-029 $99.00
A 3.99% customer service charge is applied to all phone orders.
If ordering via phone, please also provide the part # of any products you are interested in for faster and more accurate service.
If you encounter a (rare) broken button as you're trying to add parts to your cart (going to PayPal summary instead of your cart or not opening PayPal at all) or anything else of concern, please call us to report it. We'll try to have it fixed for your convenience within the next 5-10 minutes. Afterwards, refresh the page and try again.
NOTE: As of July 1st, 2018, an extended goods and services tax (GST) has been applied to all Australian consumers buying overseas, charging an extra 10% in taxes to us with each purchase. To ensure that you can continue to purchase from us in Australia and we can provide our parts at our usual lower cost, please
contact us at the email below
if interested in any particular parts so that we can make a special shipping arrangement for you.
It is the sole and exclusive responsibility of the purchaser to determine the suitability of any part, product or work for his or her use.
The purchaser shall assume all legal, personal injury risk and liability and all other obligations, duties and risks therewith. There is no warranty on High Performance products.
Click to go back to our home page
Cycle X Global Headquarters
6246 US Hwy 51 South
Hazelhurst, WI 54531
Phone: 715-356-7346
Email: hotrodcyclex@gmail.com