"Great" Refurbished Rocker Arms
Rocker arms lead a hard life and when people buy them from eBay and such, they never seem to be perfect or even usable.
These refurbished rocker arms have been inspected both visually and with our optical comparator for accuracy.
After we are satisfied with our inspections, the rocker arms are polished to a mirror finish with our rocker arm buffing machine and technique.
RA-001 $119.00 (8 rocker arms)
Price includes rocker arms and labor to refurbished.
No exchange needed. Outright sale.
Generally in stock. Call to order.

"Greater" Refurbished Coated Rocker Arms
These rocker arms follow the same rigorous inspections as mentioned in the above description.
These inspected and coated rocker arms have proven themselves in TQ midget racing, road racing, and drag racing for decades.
RA-002 $155.95 (Set of 8)
No exchange.
Price is for 8 rocker arms and coating.
Generally in stock. Call to order.

"Greatest" Refurbished Hardwelded Rocker Arms
Hardwelded and precision ground from original equipment cores. These durable and long lasting rocker arms are important with high performance and even stock motor configurations. Many conversations are had with folks trying to make the flat tappet designs survive nowadays. Zinc and other and oil additives are being blended to help make these flat tappet motors live. On the other hand, hardwelded rocker arms are the best option. Recommended for use with all cam profiles, both billet and hardweld.

No core required. Outright sale.

For ALL year model CB750 SOHC 1969-78
RA-003 $492.00 (set of 8)
Outright sale (no exchange)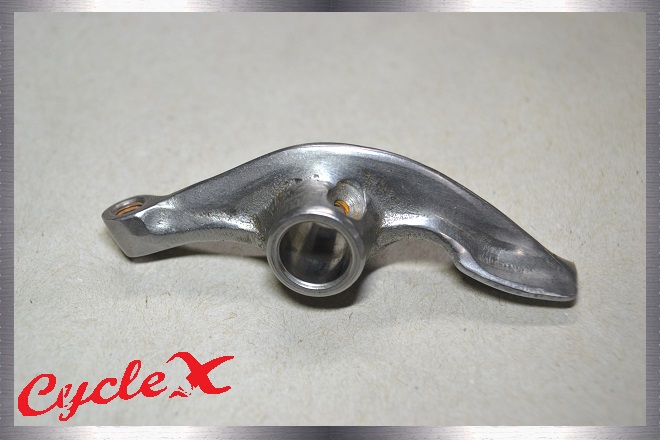 Lightened Rocker Arms
Lightweight and friction free valve trains are a good thing for happy performance motors.
Bee-hive springs, lightened rocker arms, titanium locking nuts and 5mm valve kits are a great idea for higher revving and also when sensible spring pressures are used.
Note: Extreme spring pressures are horsepower robbery.
RA-004 $119.00
Allow one week for lightening.
Coated Rocker Arms Shafts (Early and Late)
These coated rocker arms will reduce friction, heat, and just make sense for a happy motor.
These coatings have been used on all of our stock and high performance motors for years.

These rocker arms are available in early and later model versions.
Sold in sets of 4.
Outright sale (no exchange).
RA-005 $59.95
Call for availability.
Tech tip:

Lighter valve trains can be super beneficial for performance increases when "combined" with 5mm valve kits, bee-hive springs, titanium jam nuts and lightened rocker arms. The above photo shows the excess material that can be removed to get the full benefits of lighter weight valve trains. Lightening the rocker arms near the pivot shaft would be a waste of time. Your goal is to lighten as far out as possible.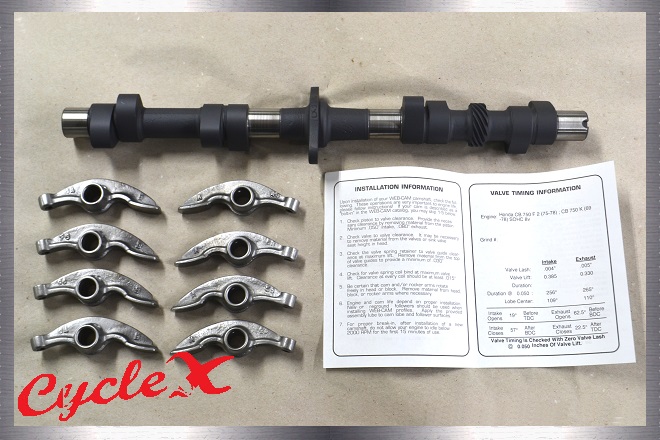 Hardweld Mania!
Many manufactures, racers and vintage "flat tappet" designed motors benefit from hard welding.
This kit includes (8) rocker arms and the hard-charging famous CX-11 camshaft (hard welded).
This is an outright sale. No core or exchange needed.
INSTALLATION INFORMATION
ENGINE: Honda CB750 F2 (75-78); CB750 K (69-78) SOHC 8V
| | | |
| --- | --- | --- |
| | INTAKE | EXHAUST |
| VALVE LASH (INCH): | .004" | .005" |
| VALVE LIFT (INCH): | 0.385 | 0.330 |
| DURATION @ .0.050": | 256° | 265° |
| LOBE CENTER: | 109° | 110° |
| | |
| --- | --- |
| INTAKE OPENS 19° BEFORE TDC | EXHAUST OPENS 62.5° BEFORE BDC |
| INTAKE CLOSES 57° AFTER BDC | EXHAUST CLOSES 22.5° AFTER TDC |
VALVE TIMING IS CHECKED WITH ZERO VALVE LASH @ 0.050 INCHES OF VALVE LIFT.
RF-79
Retail $917.00
Hardweld Mania price $817.00
Call for availability.


Titanium Rocker Arm Jam Nut Set
These Titanium rocker arm jam nuts were used on our Vintage heavyweight Super Bike. They are now available for your go-fast Honda CB750 SOHC project. (69-78) 1.2 grams per nut.
ENV-321 $49.95