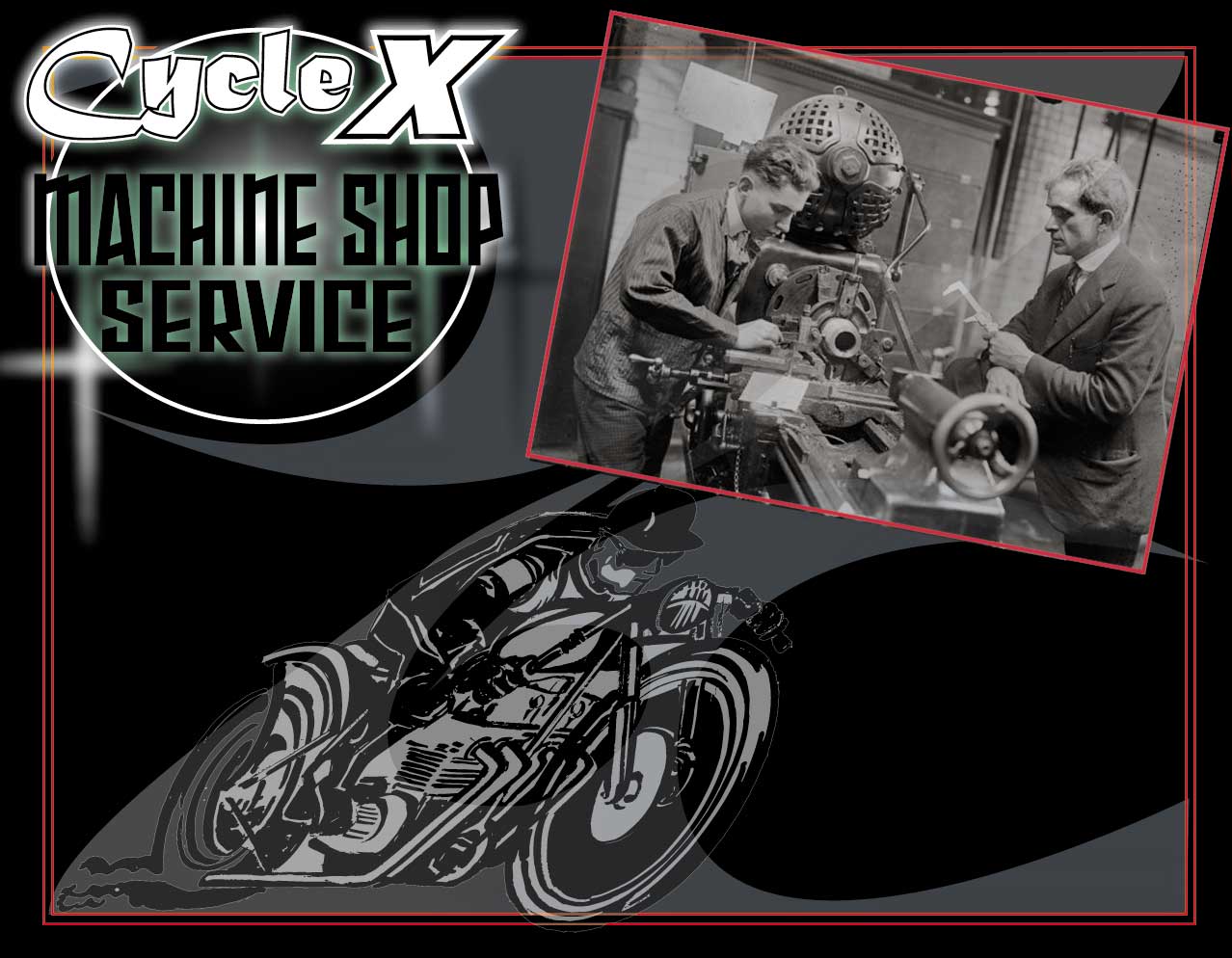 Voted: Best Machine Shop in the F*#>ing Universe!


| | | | |
| --- | --- | --- | --- |
| | | | |
| | | | |
| | | | |
| | | | |
| | | | |
Questions?
| | | | |
| --- | --- | --- | --- |
| | | | |
| | | | |
| | | | |
New shop balancer!
This balancer has proven to balance crankshafts and clutch components to a fraction of a gram. This amazing product and technology will mathematically balance items to almost 30,000 RPMs. Crankshafts, chain wheels and clutch hubs will be in stock and balanced to absolute perfection.
Motor rebuild pricing, machining and labor menu.
Wheel Lacing and Truing

$65.00
Words of Wisdom from a Honda Wrench
In 1970, Italian born Eraldo (Harold) Ferracci went to work for Chiaccio Motors in Riverside, New Jersey. During the normal 9:00 to 5:00 work week, he works as their shop foreman. But come the weekends, and he can be found at one of the National Drag Racing Events from California (Freement or Irwindale) to Kentucky (Bowling Green) to Florida (Tampa or Orlando). Eraldo started drag racing Hondas in 1970 with a slightly modified CB 750. From that time on, he's been running in the modified classes and more recently, in the "B" Gas class 1162 cc. In 1975, when the smoke finally cleared, he came out number 5 in Overall National Competition with his fastest time posted in Florida at 9. 36 E.T., 146 MPH. The racing world is nothing new to Eraldo. In Italy at age 11, he worked part time for then World Champion 500 Gilera rider, Libero Liberati. At age 18, he went to work for Benelli R & D and was part of their factory road racing team from 1962 to 1966. Space prevents us from listing all of his activities for the "competition". But from 1963 to 1964, he was National Champion in 125 cc Class. Benelli brought him to the U.S. to assist with their mini-bike marketing program and, in 1967, to assist their road racer Bertorelli. Later, he worked with others to organize Benelli's training center and service department. But his racing activities continued including flat track, TT as well as road racing. Riders he has worked with include Gary Nixon, Dick Mann, Ronnie Rall, Eddie Wurth and Elliot Schultz.
Besides his current racing activities, Eraldo is involved with Ravesi, Norris, R.C. Engineering, Venolia and MPC in developing different types of mostly top end related parts. He does all of his cylinder head work himself.
Eraldo offers us some words of wisdom for the serious engine builder. He tells us that anytime you are installing a crank on a CB750, be it a new part or one you're going to re-use, you must measure each main and rod pin for out-of-round or taper with an outside micrometer. After that's done, lay the crank alone without rods in the cases with the bearings that are called for from the chart. Lay in your pieces of plastigage; put on the lower case half; and torque to 16 ft. lbs. Eraldo does this platigage check four different places around each main and rod journal.
After cleaning all traces of plastigage, again lay in the bare crank. Don't get any oil between bearing shell and cases. Put on bottom case half, torque all the main bolts up to 10 ft. lbs. and hand spin the crank, making sure of its free rotation. Torque all bolts another 2.0 ft. lbs. and again check for free rotation. Eraldo keeps torquing in 2 ft. lb. increments until he reaches 16 ft. lbs. If you can find one particular bolt that's keeping the crank from spinning, note on the case the level it can be torqued to without stopping the crank's movement. On final engine assembly, torque it to this figure. As long as it's above the 12.0 ft. lb. level the bolt will stay and not cause any problems. Measure, checking and rechecking is essential if you expect the engine to perform reliably, especially under the extreme conditions of racing. "Above all" according to Eraldo (Perhaps paraphrasing an old Italian (?) saying), "cleanliness in engine work is next to Godliness".
Note: An additional storage charge will be applied to any machining job if no communication is made at least three days after initial contact of your job being finished. If not contacted two weeks afterwards, any parts are subject to resell.

A 3.99% customer service charge is applied to all phone orders.
If ordering via phone, please also provide the part # of any products you are interested in for faster and more accurate service.
If you encounter a (rare) broken button as you're trying to add parts to your cart (going to PayPal summary instead of your cart or not opening PayPal at all) or anything else of concern, please call us to report it. We'll try to have it fixed for your convenience within the next 5-10 minutes. Afterwards, refresh the page and try again.
NOTE: As of July 1st, 2018, an extended goods and services tax (GST) has been applied to all Australian consumers buying overseas, charging an extra 10% in taxes to us with each purchase. To ensure that you can continue to purchase from us in Australia and we can provide our parts at our usual lower cost, please
contact us at the email below
if interested in any particular parts so that we can make a special shipping arrangement for you.
It is the sole and exclusive responsibility of the purchaser to determine the suitability of any part, product or work for his or her use.
The purchaser shall assume all legal, personal injury risk and liability and all other obligations, duties and risks therewith. There is no warranty on High Performance products.
Click to go back to our home page
Cycle X Global Headquarters
6246 US Hwy 51 South
Hazelhurst, WI 54531
Phone: 715-356-7346
Email: hotrodcyclex@gmail.com