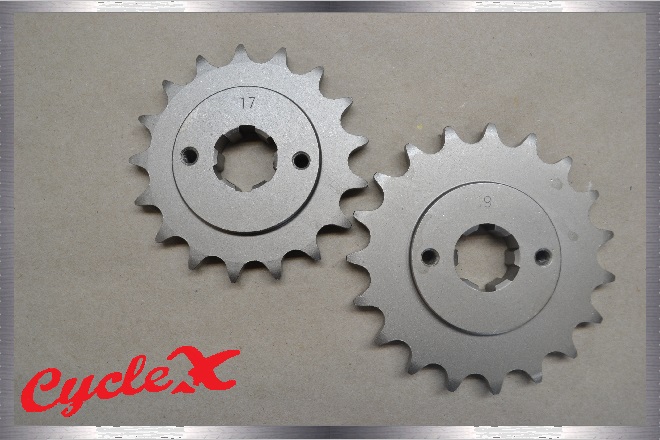 Cycle X 520 Front Sprocket Only
This front sprocket for a 520 chain comes in your choice of 17 or 19 teeth.
17 tooth sprocket temporarily out of stock.
CS-0000 $39.00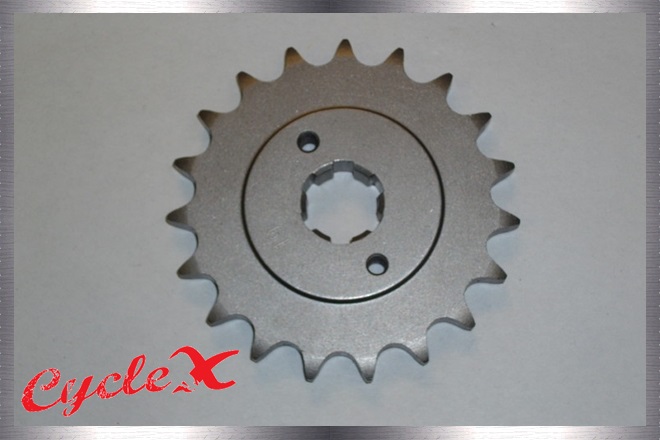 19 Tooth Front Sprocket
Industry first.
Honda cb750 19 tooth front sprocket.
Currently the largest front sprocket available is 18 tooth.
Why 19 tooth?
Some people use Harley wheels on their custom projects. Harley sprockets generally use 48-51 teeth which makes Honda rev a bit on the highway. 19 tooth front sprockets will cure this ratio problem.
Also, these sprockets were developed for our Honda trikes for the above mentioned ratio fix.
Best part, they're inexpensive!
Fits your 530 chain, years 69-78.
Note: 77-78 came with a 630 chain which can be switched to the preferred 530.
CS-005 $39.95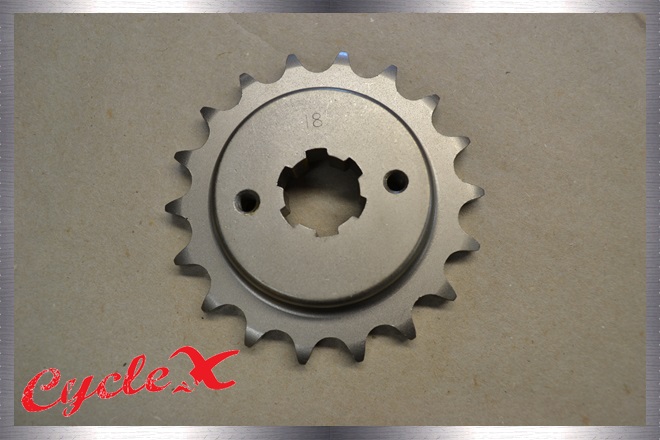 OFFSET Sprocket for Honda CB750's
Cycle X has developed an off-set sprocket to help with wide tire applications.
18 tooth sprocket.
3/8's off-set.
530 chains.
Heat treated.
.090 wider spline for more output shaft support.
69-78 Honda CB's.
Chain clearance has always been an issue Honda customs. Many people have shifted motors to the left, shifted wheels to the right, welded spacers and sprockets together to achieve chain clearance.
We have helped the custom world with the first production off-set sprocket for Honda 750's.
$69.95 | CS-006

OUT OF STOCK
530 O Ring Chain

Here's the deal about chains, After you set up your rear fender just right and there is a perfect gap between the rear wheel and fender your chain stretches and there goes your perfect gap. These are the chains we use because they have 9,100 pounds of tensile strength (They do not stretch). 120 links.

This is the same tensile strength recommended for 1200cc bikes.

$89.00 CS-003


Rear Chain Tensioner

Ever watch a bikes chain while its driving down the road? Ever notice those chain marks on the bottom of your expensive oil tank? Ever get tired of adjusting your chain and there is a gap in your fender location? We love these super high level chain tensioners because they will eliminate chain whip, chain noise, vibration, reduce chain and sprocket wear. Sealed bearings and chrome plates.
Note: Because choppers have longer chains, these chain tensioners, we feel, are a must! Highly recommended on our boxer and pro street (cry baby) frames.

$79.00 CS-004
A 3.99% customer service charge is applied to all phone orders.
If ordering via phone, please also provide the part # of any products you are interested in for faster and more accurate service.
If you encounter a (rare) broken button as you're trying to add parts to your cart (going to PayPal summary instead of your cart or not opening PayPal at all) or anything else of concern, please call us to report it. We'll try to have it fixed for your convenience within the next 5-10 minutes. Afterwards, refresh the page and try again.
NOTE: As of July 1st, 2018, an extended goods and services tax (GST) has been applied to all Australian consumers buying overseas, charging an extra 10% in taxes to us with each purchase. To ensure that you can continue to purchase from us in Australia and we can provide our parts at our usual lower cost, please
contact us at the email below
if interested in any particular parts so that we can make a special shipping arrangement for you.
It is the sole and exclusive responsibility of the purchaser to determine the suitability of any part, product or work for his or her use.
The purchaser shall assume all legal, personal injury risk and liability and all other obligations, duties and risks therewith. There is no warranty on High Performance products.
Click to go back to our home page
Cycle X Global Headquarters
6246 US Hwy 51 South
Hazelhurst, WI 54531
Phone: 715-356-7346
Email: hotrodcyclex@gmail.com