Honda 500, 550 (71-78) Performance Camshafts

These camshafts are sold on a exchange basis.
Your choice $365.00.
Cam core charge $50.00. (Refundable when we receive your usable cam)
INSTALLATION INFORMATION (358a)

ENGINE:

Honda CB500/550 (71-78) SOHC 8V
INTAKE

EXHAUST

VALVE LASH (INCH):

.004"

.004"

VALVE LIFT (INCH):

0.330

0.330

ADVERTISED DURATION:
280

°

280

°

DURATION @ .0.050":

228°

228°

LOBE CENTER:

107°

107°
| | |
| --- | --- |
| INTAKE OPENS 7° BEFORE TDC | EXHAUST OPENS 41° BEFORE BDC |
| INTAKE OPENS 41° AFTER BDC | EXHAUST CLOSES 7° AFTER TDC |
VALVE TIMING IS CHECKED WITH ZERO VALVE LASH @ 0.050 INCHES OF VALVE LIFT.
With Exchange: $365.00 358-A
Call to order.
Without Exchange: $415.00 358-A
Call for availability
INSTALLATION INFORMATION (358b)
ENGINE: Honda CB500/550 (71-78) SOHC 8V
| | | |
| --- | --- | --- |
| | INTAKE | EXHAUST |
| VALVE LASH (INCH): | .004" | .004" |
| VALVE LIFT (INCH): | 0.330 | 0.330 |
| ADVERTISED DURATION: | 288° | 288° |
| DURATION @ .0.050": | 234° | 234° |
| LOBE CENTER: | 107° | 107° |
| | |
| --- | --- |
| INTAKE OPENS 10° BEFORE TDC | EXHAUST OPENS 44° BEFORE BDC |
| INTAKE OPENS 44° AFTER BDC | EXHAUST CLOSES 10° AFTER TDC |
VALVE TIMING IS CHECKED WITH ZERO VALVE LASH @ 0.050 INCHES OF VALVE LIFT.
With Exchange: $365.00 358-B
Call to order.
Without Exchange: $415.00 358-B
OEM Honda CB500 / Honda CB550 Adjustable Camshaft Sprockets

We all know why adjustable camshaft sprockets are used in the high performance world. But, stock motor configuration motors can benefit from these also. Have you ever tried to line up the camshaft marks after any sort of motor work or checking a few things? The marks usually never line up perfectly because of many reasons. One of the main reasons on a stock motor with any miles is cam chain stretch. The cam chain is like a rear chain. It stretches. So, install these modified poor man's adjustable OEM cam chain sprockets and realign your cam timing or install your performance cam.

CS-017C $39.95

Call for availability
Honda CB500/CB550 Heavy Duty Cam Chain
This is another weak link to the Honda 500/550 SOHC motors. These chains are clearly stronger than stock. (continuous)
TECH TIP: Soak cam chains in oil before installation, they will last longer.
ENV-500550-050 $39.00

Cycle X Race Team Approved
Cycle X 500/550 Adaptors
Here is what we have been working on!
First...the problems...

Father time is catching up with many stock components and it makes life difficult for vintage mechanics and enthusiasts.
Honda cb500 and cb550's carburetors have their own challenges to overcome at times.

Brief examples:
No room for individual air pods. Jetting stock carbs for pods or stacks can be time consuming. CR special carburetors still have a pod clearance problem.

Our Cycle X intake system features a straight, direct shot for the intake charge and will be available with 2 carburetor versions.
#1 version will have our intake manifold with 26mm CR special carburetors (bigger carbs available for you racing folks).
#2 version will have the high-performance carbs shown in the photos.
Cycle X direct shot intake adaptor.
(4) carburetor mounting rubbers and hardware.
$199.00 500-550-ADAPTORS
Call for availability.
Cycle X 500/550 Intake Manifolds and 26mm CR Specials
Version #1
Kit includes:
Cycle X direct shot intake adaptor.
(4) carburetor mounting rubbers and hardware.
CR special 26mm carburetors (spaced)


$1,300.00 Call to order.

Cycle X 500/550 Intake Manifolds, CR Specials and Cycle X Ignition
Version #2

Cycle X CR special and optical ignition combo



Kit includes:
Cycle X direct shot intake adaptor.
(4) carburetor mounting rubbers and hardware.
CR special 26mm carburetors (spaced)
Cycle X high performance optical ignition system (read below)

Honda CB 500, 550, 750 owners have been limited to Dynosaur Ignition systems for years. (magnetic type sensors)
and Ignition Coils that were designed in the 19th Century.
Here is the bad news!
Magnetic sensors can cause timing to be off as much as 14 degrees. (plus or minus ± 7°)
(Magnets and Magnetic sensors are effected by metal mass, motion, heat and distance from pickup)
The illustration below shows the inconsistency of Magnetic sensors.
This unwanted fluctuation in ignition timing will make your motor unhappy and give you the
impression the motor is not internally balanced properly.

The coils (paper wrapped) is considered to be early 1900's technology.
This Ignition causes coils develop excessive heat and are prone to failure, due to lack of dwell control leaving the coils on excessively.
Leaving the ignition switch on can cause failure to the coils or the Dyna "S" or both.
Our ignitions have an automatic shut-off coil shut off to prevent such heat and failure.
Dyna 2000's claim to have an coil-off situation, but the minute the motor is turned over they stay on and key must be shut off if engine is killed.
Ever wonder why most racers carry extra sets of coils?
Call for availability, redesigning ignitions.
Kibblewhite Honda CB500, 550 Valve Guides

500-015 $140.99

Hi-Performance Spring Set

Up to .500 Lift - Honda CB500, 550
500-016 $59.95

Call for availability

Hi-Performance Spring Kit With Titanium Retainers

Up to .440 Lift. Comes with instructions.
500-017 $164.95
Kibblewhite Standard Honda 500/550 Valves

Set of 4 Intake Valves 27.5mm
500-018 $151.95

Set of 4 Exhaust Valves 23.0mm
500-019 $151.95

Complete Set of 8 Standard
500-020 $294.95

Kibblewhite Oversize Honda 500/550 Valves

Set of 4 Oversize Intake Valves 28.5mm
500-021 $151.95

Set of 4 Oversize Exhaust Valves 24.0mm
500-022 $151.95

Oversize Complete Set of 8
500-023 $294.95
500/550 Cylinder Studs
$84.95 500-CXSS
Honda CB550 Piston Gasket Combo
Cycle X Piston Gasket Combo is the "BEST". Here's why!
Wiseco 59mm piston set (0.50 over)
10 to 1 compression.
125 grams bare
Complete gasket set.
Cycle X developed MLS Head Gasket
550-00C $649.00
Cycle X 500/550 Complete Head Gasket Set
Question:
Who makes the best complete gasket sets for Honda CB500s?
We feel 99% of the gaskets are adequate except for the head gasket.
Our tests show, most conventional head gaskets can and will compress up to .015 after a short period of time. If the head nuts are re-torqued, in time...weepage can result.
So here's what we did!
We included a MLS head gasket with a conventional gasket set to cure the above mentioned problem (no re-torqueing needed).
MLS head gaskets for Honda cb750, 500 and 550 inline fours were funded, tested and introduced to the public by Cycle X.

Note: Head gaskets are offered in 59mm, 61mm, and 62mm bore sizes (.030 and .040 thickness) 59mm (.030) and 61mm (.040) temporarily out of stock.

550-747 $99.95

500/550 Gasket Set
Fits:
| | | | |
| --- | --- | --- | --- |
| Year | Make | Model | Submodel |
| 1978 | Honda | CB | 550 Four |
| 1978 | Honda | CB | 550K |
| 1977 | Honda | CB | 550F Super Sport |
| 1977 | Honda | CB | 550K Four K |
| 1976 | Honda | CB | 550F Super Sport |
| 1976 | Honda | CB | 550K Four |
| 1975 | Honda | CB | 550 Four |
| 1975 | Honda | CB | 550F Super Sport |
| 1975 | Honda | CB | 550K1 |
| 1974 | Honda | CB | 550 Four |
550-030 $49.00
MLS Steel Head Gasket (CB500/550/650)
ENG-556 $69.95
59mm (.030) and 61mm/.040 temporarily out of stock.
| | | |
| --- | --- | --- |
| ENG-050 $8.00 | ENG-051 $12.00 | ENG-052 $10.00 |
| ENG-053 $7.00 | ENG-054 $2.99 | ENG-055 $2.99 |
| ENG-056 $2.99 | ENG-057 $2.99 | ENG-058 $15.99 |
Honda 550 Standard Fork Tubes

New fork tubes by Cycle X are made with industrial hard chrome and fit Honda CB550's.
Now comes with seals, but boots sold separately.
21 13/16 inch.

FR-005 $139.95




Cycle X Gator Fork Boots

Our gator boots are different because they do not mount to your head light ears like OEM. Our boots mount to your lower sliders and your fork tube.
This will eliminate the need for OEM head light ears for a super clean and 60's, 70's look. Super elastic.

FR-014 $19.95 (Pair)

Dust Boots

FR-013 $9.95 (Pair)

Honda 500/550 SOHC Fork Seals

We have tried every fork seal made. These fork seals are the best quality and price.
Tech tip: After your fork seals are installed, lube the top of the seal with your favorite lubricant. This will give your fork seals extended life and better fork action.

FR-015 $6.99 (Set)
Honda 500/550 Tach
Reliable tach reading up to 12,000 RPM.
500-005 SALE PRICE $29.00
Cycle X Shocks the world again!
Shoutout to Will Bass and John Kovach (customers of this attachment) for the pics!
Mini speedo attached to the front wheel drive unit. We think this is sooooooo cool!

Frequently Asked Questions:
Question: Can you see the speedo while driving down the road?
Answer: Who cares?

Question: Is this legal?
Answer: Who cares?

Question: Has this ever been done before?
Answer: Maybe, but someone will copy this.
NOTE: Also now available in black!

This super innovative speedo kit includes: Speedo, adaptor, and special cable.
MD-029 $99.00
Cycle X 520 Front Sprocket Only

This front sprocket for a 520 chain comes in your choice of 17 or 19 teeth.

Fits Honda CB500/CB550.

CS-0000 $39.00




19 Tooth Front Sprocket

Industry first.
Honda cb750 19 tooth front sprocket.
Currently the largest front sprocket available is 18 tooth.
Why 19 tooth?
Some people use Harley wheels on their custom projects. Harley sprockets generally use 48-51 teeth which makes Honda rev a bit on the highway. 19 tooth front sprockets will cure this ratio problem.
Also, these sprockets were developed for our Honda trikes for the above mentioned ratio fix.
Best part, they're inexpensive!

Fits your 530 chain, years 69'-78'.

Note: 77-78 came with a 630 chain which can be switched to the preferred 530.

CS-005 $39.95
Oil Filter and Cooler Combo
Question:
Want to keep that engine temp down and extend oil durability?
Answer: Cool your oil.
This Cycle X oil filter and cooler combo is different from the rest.
Why? Check it out.
Features:
Alloy adaptor will allow you to run chrome or black high level filters.
Alloy adaptor will allow you to use a oil cooler.

Special feature:
Our alloy adaptor has a built in block off system.
By changing fittings you have the choice of using a cooler
or not using the cooler.

Kit Includes:
Alloy Oil Cooler adaptor.
Oil Filter
O-Ring
Oil coolers mounted from this location are optimum.
The oil is cooled and goes straight to all the vital parts of the motor.
Filter now also available in chrome!
OL-002-500550 $99.95
Natural Position Foot Pegs (Simple as it gets)
These combination foot peg motor mount nuts will make your life easy.
Alloy foot pegs available in 2 lengths.


Install the foot pegs and tighten (done).
FR-028 $99.95
NEW Chrome 19" Front Spokes
In stock, In stock, In stock

These exact OEM spokes are for Honda cb750 SOHC bikes using 19 inch front wheels. (Chrome)

19" Front Spokes: WH-19FRONT $59.99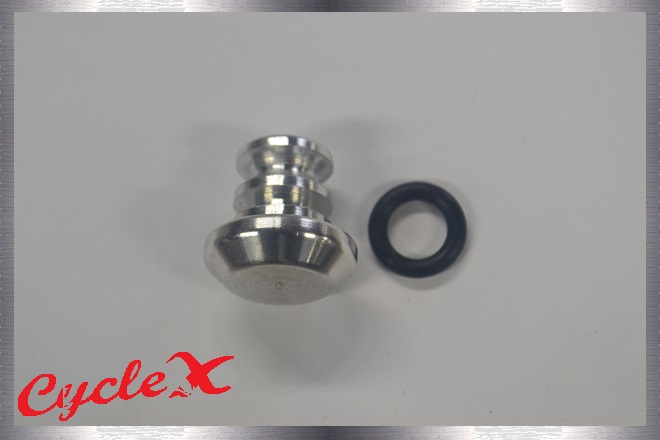 Cycle X Tach Plugs
Maybe you knew this...maybe you didn't...but here it is...

The tach plugs that you have gotten from other vendors don't plug the leak from the tach hole in the valve cover.

This is was such a no-brainer solution to a simple problem, we're surprised that nobody else has done it. Well, we did it.
MD-CXTP $16.95
If ordering via phone, please also provide the part # of any products you are interested in for faster and more accurate service.
If you encounter a (rare) broken button as you're trying to add parts to your cart (going to PayPal summary instead of your cart or not opening PayPal at all) or anything else of concern, please call us to report it. We'll try to have it fixed for your convenience within the next 5-10 minutes. Afterwards, refresh the page and try again.
NOTE: As of July 1st, 2018, an extended goods and services tax (GST) has been applied to all Australian consumers buying overseas, charging an extra 10% in taxes to us with each purchase. To ensure that you can continue to purchase from us in Australia and we can provide our parts at our usual lower cost, please
contact us at the email below
if interested in any particular parts so that we can make a special shipping arrangement for you.
It is the sole and exclusive responsibility of the purchaser to determine the suitability of any part, product or work for his or her use.
The purchaser shall assume all legal, personal injury risk and liability and all other obligations, duties and risks therewith. There is no warranty on High Performance products.
Click to go back to our home page
Cycle X Global Headquarters
6246 US Hwy 51 South
Hazelhurst, WI 54531
Phone: 715-356-7346
Email: hotrodcyclex@gmail.com